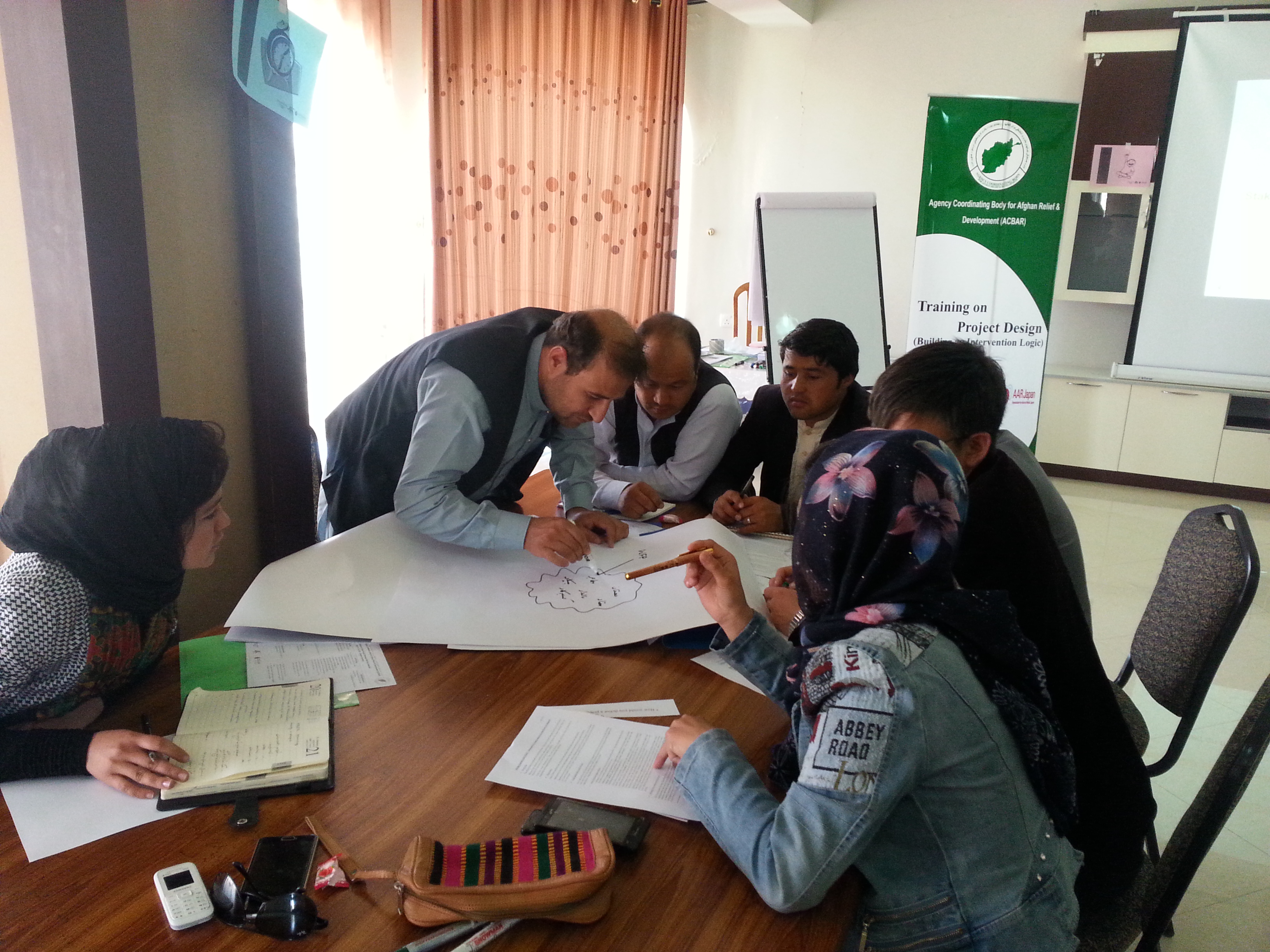 ACBAR Capacity Development Team
ACBAR has a Capacity Building Department which implements 3 capacity building projects in Kabul and in the provinces, funded by Japan Partners, TAWANMANDI and DFID.
The Afghan Civil Society Support Initiative (Funded by AAR Japan, Civil Sophia, JCV, Japan Official Development Association Program and Peace Winds Japan)
The aim of the program is to strengthen the work of the civil society actors in order to expand services into provinces and districts through coordination, capacity building; learning and training, in order to enhance their ability to efficiently and effectively address basic needs and protect the rights of Afghans.

The trainings are conducted in Kabul as well as provinces selected on a needs assessment.
The training team consists of 3 trainers, 1 M & E Manager, Training Manager Assistant, SFAN Project M&E officer and is managed by the Capacity Building Manager.
ACBAR Capacity Development Updates
ANNOUNCEMENT
ACBAR expands trainings in Afghanistan to NGOs
2016 Capacity Development Achievments
ACBAR is pleased to release the Afghanistan Civil Society Support Initiative (ACSSI) Annual Report (2016) thanks to the support of PWJ. Over the past year, ACBAR conducted:
13 trainings on Project design and NGO Law in 11 provinces of Afghanistan for 459 (345 male and 114 female, 360 NGOs staff, 99 employees of 157 NGOs/CSOs (75 ACBAR members, 82 Non-members) and government line departments.
459 of participants from NGOs/CSOs and government line departments enhanced their capacity on project design through ACBAR trainings in 11 provinces of Afghanistan
As a result, the Reporting and monitoring challenges of NGOs with the government line departments is mostly solved after the NGO Law training in Balkh province for sectorial departments. Read the report
Success stories

"Before ACBAR training on project Design (Proposal Writing) we had submitted a proposal to World Bank for Health project in Logar province, but the proposal was returned back with strong comments and questions of Donor. By using the skills of ACBAR training on project design training the proposal was developed professionally and approved by Donor. ". (Dr. Hayatuddin, HMIS Officer, CAF, Logar)

It was very effective and useful for me the contents which were discussed were related to my field. As I am head of OBTA and it is a newly established organization and we really needed to such trainings to have a winning and successful projects and write a standardized proposals this training helped me to increase my knowledge and experience regarding the projects. After training I delivered my knowledge to my colleagues. Whenever I face problem I refer to the handbook.."(Ms. Khadije Mohammadi,OBTA Head, Bamyan)

Trainings announcement (May 2017-August 2017)
Join our next training sessions on Project Design in the following regions. For more information, contact hmanager@acbar.org and tmassistant@acbar.org
Daykundi
Badashkhan
Herat
Paktya