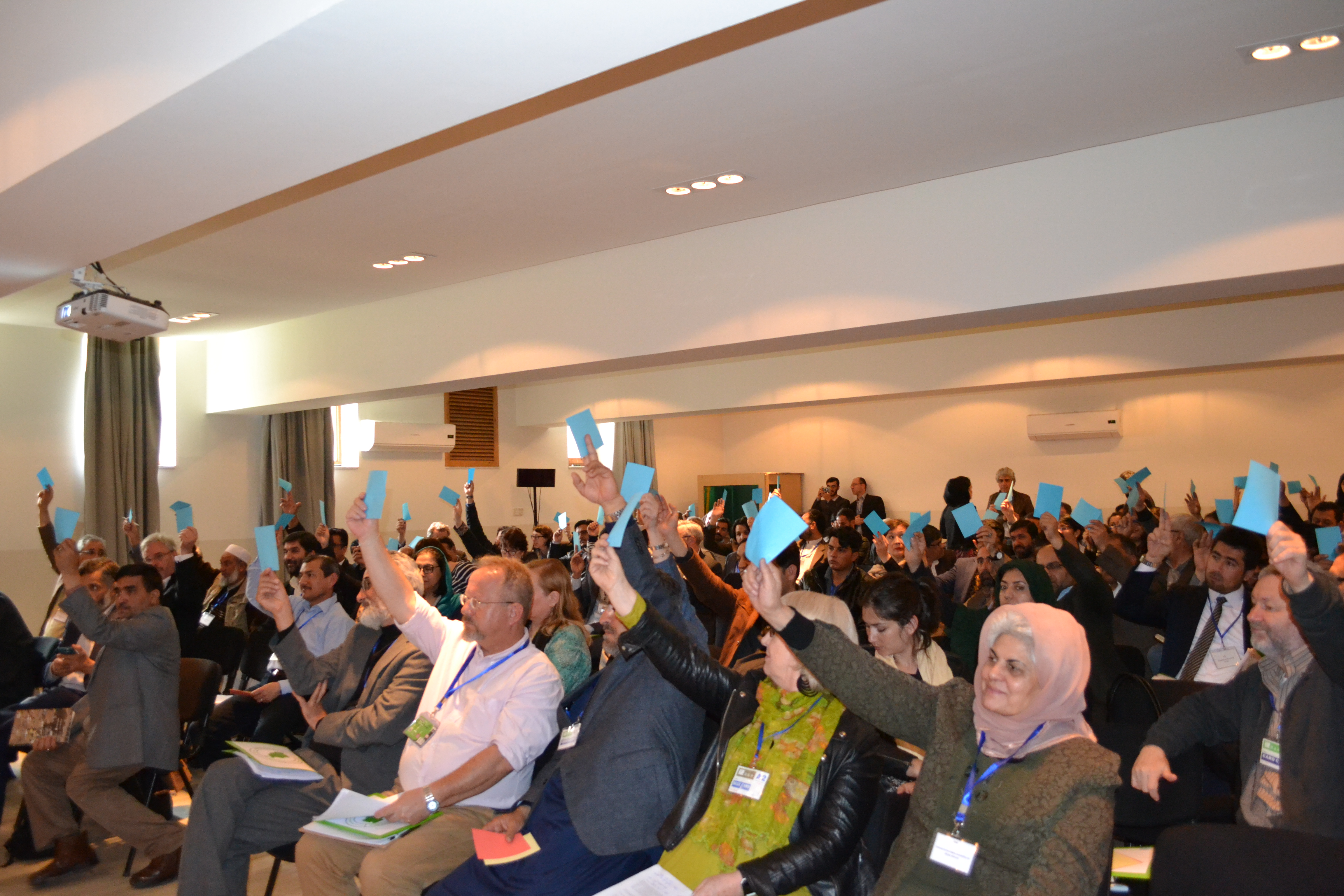 ACBAR General Assembly
The Annual ACBAR General Assembly was held on Wednesday April 5th at ACKU in Kabul University, an occasion for ACBAR members to review ACBAR activities and action points of 2016 and elect new NGO members. Overall, over 98 NGOs participated.The General Assembly is the highest decision making body of ACBAR and is composed of all ACBAR members. The General Assembly meets twice a year.
ACBAR Annual General Assembly - 2017
EVENT
ACBAR welcomes new Chairwoman, 12 members and Steering Committee to the family

A warm tribute to Mr. Amanullah Jawad
ACBAR would like to salute Mr. Amanullah Jawad who demonstrated a never failing support and leadership to ACBAR as Chairman over the past two years. Mr. Amanullah has been serving ACBAR as member of the Steering Committee and Chair for fourteen years, working hands in hands with ACBAR secretariat to advocate for an enabling environment for Civil Society and represent NGOs in key international forums. Fierce defender of ACBAR, he will continue his support to NGO as a member of the Steering Committee.
Welcome to Ms. Palwasha Hassan - Chairwoman of ACBAR
It is with great pleasure that we announce the nomination of Ms. Palwasha Hassan, Executive Director of AWEC, as the new Chairwoman of ACBAR. Mrs. Palwasha has over 20 years of experience in promoting women's rights and civil society in Afghanistan, her pioneering work includes setting the foundation for Afghan Women Network (AWN), Roazana, Madadagar (Save Home for Afghan refugee women in crisis) and Irfan Cultural Center. She also serves as an expert on issues of gender, development, governance and strategic policy development.
Welcome to 12 new members
After review of their application and Q&A session, ACBAR members voted for the membership of 13 new members
Afghan Amputee Bicyclists For Rehabilitation And Recreation, AABRAR (National)
Association For Aid and Relief Japan, AAR Japan (International)
Agency for humanitarian and development assistance for Afghanistan, AHDAA (National)
Green Way Organization, GWO (National)
International Assistance Mission, IAM (International)
Kabul Orthopedic Organization, KOO (National)
Organization for Community Coordination Development, OCCD (National)
Organization of Human Welfare, OHW (National)
Organization of Social Development, OSD (National)
Rehabilitation Association and Agriculture Development for Afghanistan, RAADA (National)
Social Safety and Social Protection Organization, SSSPO (National)
Voice of Women Organization, VWO (National)
New Steering Committee
Ms. Wendy Barron (Deputy Country Representative, The Asia Foundation) INGO
Ms. Connie Maria Shealy (Assistant Country Director, Norwegian Church Aid) INGO
Mr. Vijay Raghavan (Country Director, The Johaniter) INGO
Mr. Zemarai Saqeb (Senior Management Advisor to Country Director, Swedish Committee Afghanistan) INGO
Mr. Stefan Recker (Country Director, Caritas Germany) INGO
Mr. Sabriullah Memlawal (Japan Volunteer Center) INGO
Mr. Terje Magnussønn Watterdal (Country Director Norwegian Afghanistan Committee)INGO
Dr. Mohammad Fareed Asmand (Executive Director, Afghan Health and Development Services)NNGO
Mr. Amanullah Jawad (Deputy Director Rural Rehabilitation Association for Afghanistan) NNGO
Mr. Abdul Bashir Khaliqi (Country Director,Afghan National Association for Adult Education) NNGO
Mr. Mohammad Shohab Hakimi (Director, Mine Detection Center) NNGO
Mr. Raz Mohammad Dalili (Executive Director, Sanayee Development Organization) NNGO
Mr. Abdul Khaliq Zazai (Executive Director , Accessibility Organization for Afghan Disabled) NNGO
Mr. Fazel Rabi Haqbeen (Executive Director, Tashabos Educational Organization) NNGO