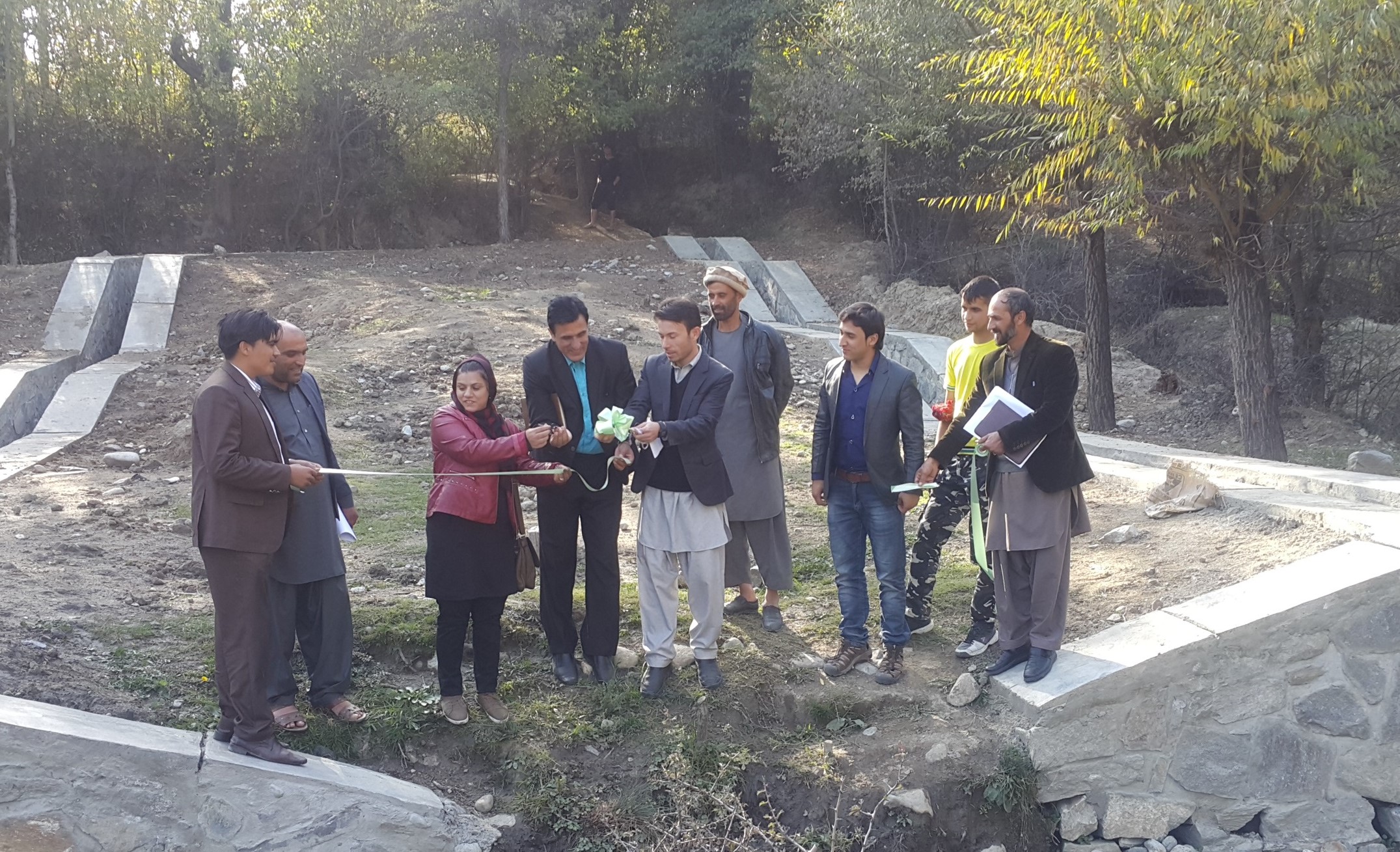 Project handover between WHH and ANCC in the Eastern Province Copyright ANCC
ACBAR Twinning Program: Rethinking partnership between NGOs
As humanitarian needs grow and crises become more complex in Afghanistan, the need for stronger coordination and strengthening local actors is acute. For the international community, engaging with National NGOs in a spirit of partnership, and aiming to reinforce rather than replace national capacities has become a key to sustainability and development. Such partnerships can create opportunities to combine skills, expertise, and resources to deliver aid more effectively and strengthen National NGOs' leadership. DFID funded ACBAR Twinning Program was developed with this in mind: take experienced National NGOs and make them stronger.
The Afghanistan National Re-Construction Coordination (ANCC) is an Afghan NGO developed in 1995, working in the sectors of humanitarian assistance, food security, agriculture, and education. ANCC has a proven track record of providing services to Afghans in the southern provinces. Looking to provide more and better services to Afghans, ANCC first applied to the Common Humanitarian Fund (CHF), but failed to pass the due diligence process to obtain membership.
While ANCC was a strong organization, the due diligence report identified areas that were necessary to improve in order to implement the CHF large scale projects. With this in mind ANCC applied for the Twinning Program to receive the support of not only ACBAR, but also a CHF experienced International NGO (INGO). The Welt Hunger Hilfe (WHH), a German NGO that is specialized in food security and civil society empowerment volunteered to support ANCC.
"We knew that partnering with WHH would not only help us understand the CHF process better, but also allow us to observe how an INGO develops strategies and policies" explains Mr. Naseri, ANCC Director.
Stories from Afghanistan
ARTICLE
Capacity Building, National NGOs, Partnership
In November 2015, when ANCC began the program, ACBAR and WHH conducted a joint SWOT[1] analysis and capacity assessment to identify needs and an action plan. "The Twinning Program focused on developing our strategic plan, which was an important need identified in the due diligence process. When WHH was preparing their own strategic plan, they called us to participate in its development. That is how we learnt: by collaborating." The results of the Due Diligence Report also recommended that ANCC work on making their policies more robust and tailored to their organization. With the help of both ACBAR and WHH, policies were reviewed, revised, and adapted to the specific needs of ANCC.
Throughout the Twinning Program, ACBAR offered ANCC trainings to address gaps. These included trainings on emergency assessments and how to write proposals. Both were instrumental in improving ANCCs' organizational skills. "Applying these good practices in our office not only capacity built our staff but also supported the NGO growth" explains Naseri.
As the program went on, WHH chose to collaborate further with ANCC. "We partnered with ANCC because we could notice a big progress within their organization and staff. Their commitment to improving their service to the neediest is palpable" explains Zarmina Rassouli, Partnership Relation officer for WHH's "Strengthening Civil Society and Partnership Programme".
In September 2016, with the help of ACBAR and WHH, ANCC applied once again for the CHF and passed the due diligence process, making them eligible to apply for CHF funds. For Ms. Zarmina Rasouli "It is a success for ANCC that proved their commitment to self-improvement. It is also a success for ACBAR and WHH, as we proved that long term capacity building efforts do pay off. Partnerships have to go beyond the simple "contracting" relationships and when two organizations work and learn from each other, we get results."
With this in mind, ANCC plans to develop further its partnership with WHH. As they proceed in the second phase of the Twinning Program, they will continue to work closely with WHH and ACBAR, this time, at field level. "Now that we have built our system, it is time to improve our project implementation. We are planning to have several field visits with our INGO partner, so we can learn on the ground."
The Twinning Program is funded by DFID. Learn more about ACBAR Twinning Program
Learn more about the OCHA CHF
[1] Strength, Weakness, Opportunity & Threat matrix