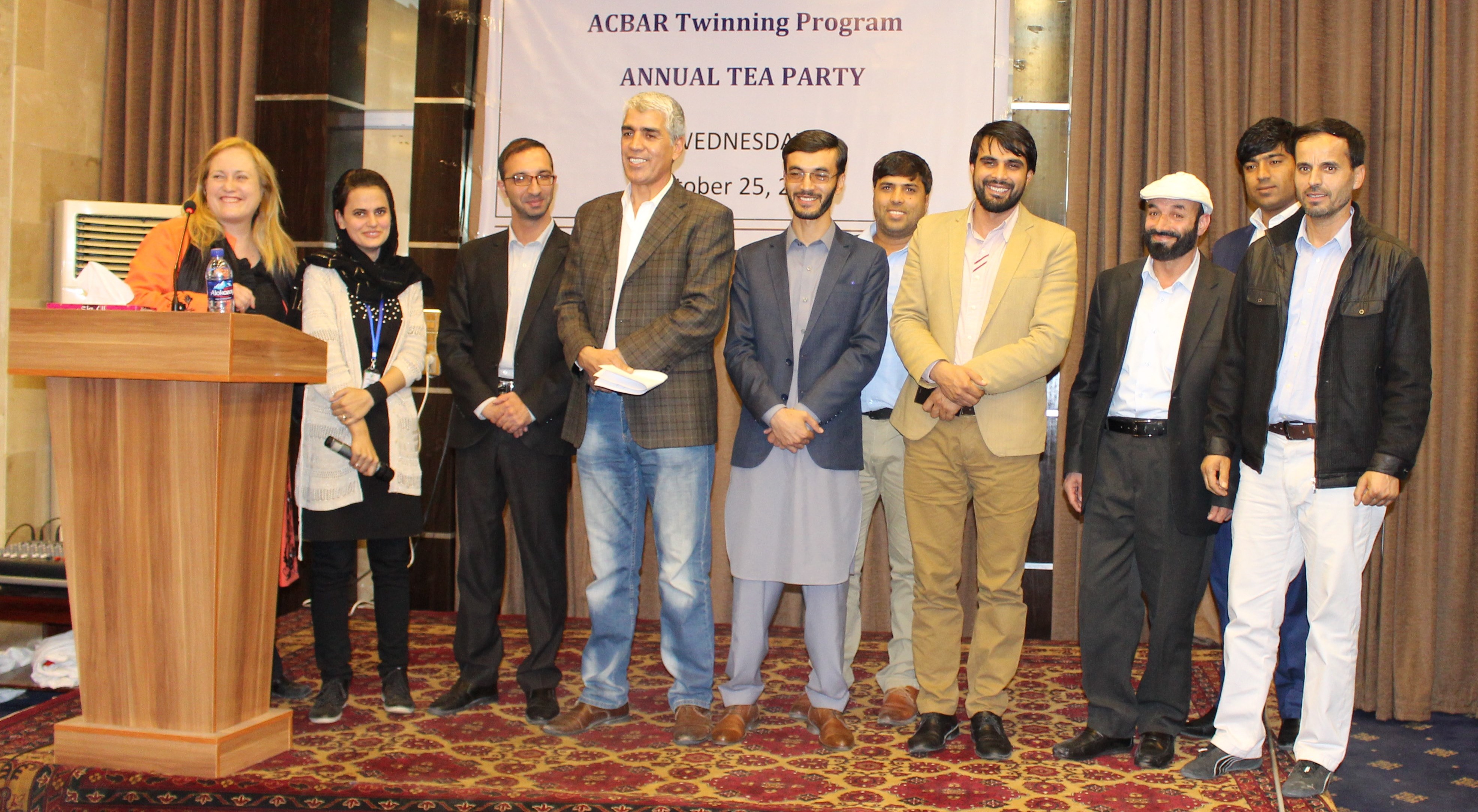 Welcome to ACBAR Twinning Program Newsletter

The ACBAR Twinning Program is pleased to announce the new Twinning Program Newsletter which will be published quarterly. The newsletter will contain articles, updates and materials submitted by our twinning partners.

To be added to the Mail Chimp subscriber list, to change contact data or to be removed from the list, send an email to translator@acbar.org

The Twinning Program started in 2015 to address the lack of capacity of National NGO (NNGOs) providing humanitarian aid and lack of representation in the Common Humanitarian Fund (CHF). Currently there are 24 NNGOs partnered with 13 INGOs that have one to three twinning partners.

You can find out more about our program by clicking on this link:

http://www.acbar.org/page/7.jsp?title=Humanitarian-Twinning-Program
New Twinning Partners and Partnerships
As of September 30, 2017, the ACBAR Twinning Program is full with 24 partnerships between National Non-governmental Organizations (NNGOs) that are twinned with 13 International NGOs. The INGOs in the program have one to three NNGO partners.

New NGOs to the program are:
NNGOs: ORD, PRB and RSSAO
INGOs: ACTED and OXFAM

New partnerships are
NNGO AOAD and INGO ACTION AID
NNGO ORD and INGO OXFAM
NNGO PRB and INGO MADERA
NNGO RSSAO and INGO SCI
NNGO TLO and INGO ACTED


Congratulations on joining the program!
The ACBAR Twinning Program is made possible by UK aid from the British people.
Twinning Program's second phase
ACBAR, DFID and the 33 NGOs Twinning partners celebrated the launch of the program's second phase, after 9 NNGOs successfully passed the due diligence (DD) of the Common Humanitarian Fund. Currently 11 NNGOs have passed DD.

Twinning Program Training
NNGO twinning partners continue to have training in various subjects identified in the SWOT analyses, Mid-Term Review and requested by the partners. Through September 2017, NNGO twinning partners have been offered 65 days of training in various subjects. Training has included SPHERE, disability, proposal writing, monitoring and evaluation, antic-corruption and other humanitarian topics.

Calendar

Monthly
Mentoring and Twinning Meetings
Cluster Meetings
ACBAR Humanitarian Forum
Twinning Reports Due
Quarterly
Director Meetings
Report Hub 3W/4W
Annually
Training
Field Visit INGO/NNGO
Assessments
SWOT
Strategic Work Plan

Twinning Partner Monitoring and Evaluation Training

An Afghanistan based training and consulting company, ASK provided Monitoring and Evaluation training for the NNGO Twinning Partners in July and August. The training covered theory and practical assignments for the participants who attended six days of training with an assignment in between sessions.
Some of the participants provided feedback on the training as follows. Program Manager Maliha Sadat from TLO said, 'that M and E can affect projects positively if they have a standardized system that will measure success very easily ...' Gender and HR Manager Dr. Nafisa Sahak for SAF suggested that there be more training in M and E in the future. She also said that M & E could help management have access to good output, to obtain expected outcomes and to help change be done on time in addition to for alignment with results-based management.

Monitoring and Evaluation Officer Hayatullah Saadat from RCDC discussed which ways were useful for collecting secondary data and that collection methods depend on the use of secondary data. That if a reliable source is cheap and useful that is helpful. For collecting primary data it is useful to use mixed data collection like qualitative and quantitative and also observation, FGD and individual interviews. Computer Trainer Edris fro Aschiana said that the Twining Program M & E training was very helpful and taught new methods of collecting data and analyzing data.
The pre and post-test results and evaluations from this training showed improved knowledge in quantitative and qualitative M & E. Practical field visits with the INGO and NNGO partners to see M & E at active projects is recommended in the future as well as more advanced training.

Tell us your opinion on the newsletter and suggest content: programmanager@acbar.org