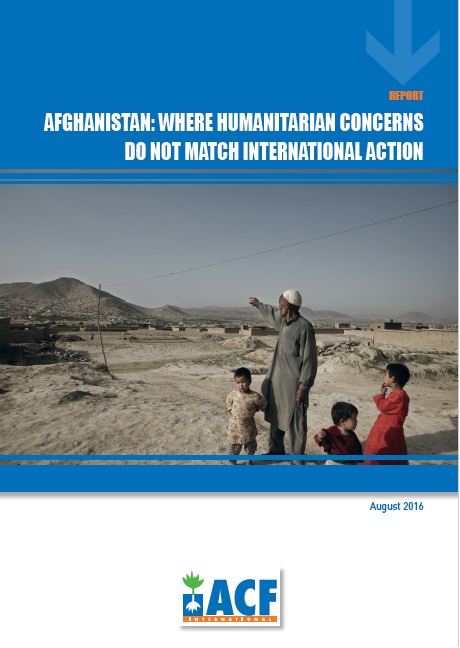 Photo Copyright Sandra Calligaro/ ACF
Brussels Series
Ahead of the Brussels Conference, ACBAR presents the Brussels Series. Each week, find out about NGOs positions and statements about Afghanistan through a series of Oped, articles and interviews.
This week, the first episode of the Brussels Series is dedicated to Action contre la Faim (ACF) / Action against Hunger. To raise awareness on the humanitarian needs, ACF recently published a report: "Afghanistan: Where Humanitarian Concerns Do Not Match International Action". Find the report here.
Join the conversation online
The Brussels Series
OPED
Action contre la Faim: "Building a nation without leaving Afghans behind"
October 4-5 will mark an opportunity for Afghan, European and International leaders to take decisions for a better future of Afghan people. In October, international donors together with Afghan representatives and other partners will gather in Brussels to reaffirm financial commitments to the Afghan self-reliance.
From a humanitarian perspective, Action contre la Faim (ACF –Action against Hunger) highlights the crucial need for aid and development policies that reflect and aim to address the direct needs of the Afghan population. What is called for today, is an end to the use of aid for political goals. We must return to a more coherent and rational approach to the aid delivered in Afghanistan: working to contextualize, evaluate and adapt it to local needs and to implement effective monitoring systems focusing as much on project quality and impact as on good management.
Overview of humanitarian context and past commitments
Afghanistan is facing a widespread humanitarian crisis where humanitarian needs are fast growing, especially due to the increase of civilian casualties and displaced populations. Simultaneously, obstacles to humanitarian aid are rising, with an escalation of attacks against health workers and shrinking humanitarian space. In 2015, overall civilian casualties from conflict related violence increased by four per cent compared with 2014. In the first six months of 2016, the number of civilian casualties reached a record number since 2009. It is also estimated that in 2015, the number of people forcibly displaced by conflict increased by 96% compared with 2014.[1]
On top of the raging conflict, threats against aid workers are escalating, cutting access to aid and services for many Afghans in highly insecure areas. For example in Helmand province, ACF has to limit its activities to Lashkargah city only although high needs are identified outside the city borders. "Helmand is one of the least supported provinces in terms of humanitarian actors, and yet, the number of people in need never ceases to grow. Although as a humanitarian actor ACF aims to respond to the most vulnerable, but the quickly changing and volatile context often creates challenges to the work planned by the organisation", - said Jerome Berson, ACF Field Coordinator in Helmand.
In the last years, a number of senior officials meetings served to reaffirm the international support towards reinforcing security, governance and the rule of law in Afghanistan. As a result of Kabul meeting in 2015, the Self-Reliance Mutual Accountability Framework (SMAF) was adopted, detailing the partnership between donors and the Government regarding the reconstruction of Afghanistan in the next decade.
We think that the focus of this and other frameworks is entirely on governance and management of funds. Little consideration has been given to the humanitarian assistance and whether this assistance is reaching the people that are most in need. All involved actors need to recognize that Afghans continue to suffer in a state of emergency and that the current aid system does not sufficiently address the real needs of the Afghan people. While the state building and governance approach dominating development programs seeks to provide long term economic, social and political solutions, the immediate needs of the population in this highly unstable environment have to be addressed promptly.
Recommendations
On the path towards the Brussels Conference, ACF calls all the actors that will participate in the Conference to:
Reach a commitment for a better inclusion of frequent emergencies in their financial allocations, including population's health needs, by assigning funds to contingency planning in mid and long term programs. Besides, Brussels final statement should explicitly acknowledge that the purpose of aid is primary to address the needs of the population in Afghanistan;

Set not only long term development, but also short term clearly defined and measurable population based goals (including specific benchmarks that would ensure better accountability), that are aligned with the long term development objectives of Afghanistan to strengthen the capacity of its national institutions;
Commit to improved civil society involvement in the formulation and the delivery of development policies by giving local NGOs and other national actors improved access to information of national policies development as well as their increased role in the implementation of development projects;

Focus on needs based approach aiming at alleviating the suffering of the Afghan population and refrain from politicizing aid programs either towards counter-terrorism objectives or limitation of migration.
[1] UNHCR, Conflict Induced Internal Displacement 2015: The Year in Review, 2016.
ACF recently published a report: "Afghanistan: Where Humanitarian Concerns Do Not Match International Action". Find the report here