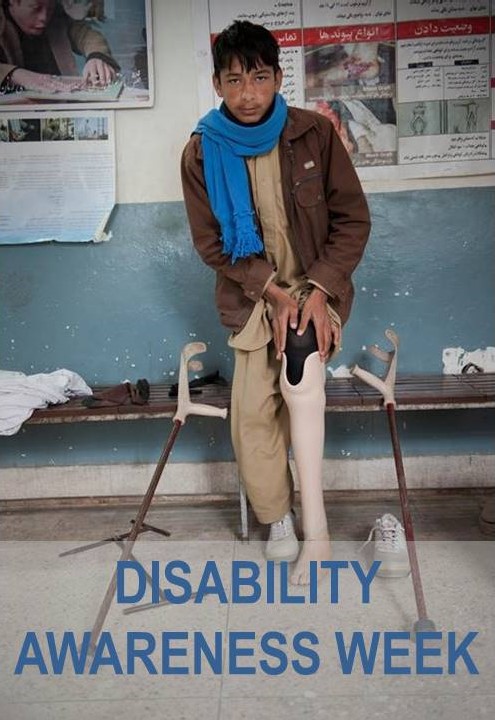 ACBAR
On the occasion of the International day of person with disabilities, ACBAR opens the Disability Awareness Week, a series of articles and stories to promote the rights of persons with disabilities. We would like to thank our NGO members for their contribution : Afghan Landmine Survivors Organization, Asia Foundation, Swedish Committee for Afghanistan and Accessibility Organization for Afghan Disabled
Read the stories here
Disability Awareness Week
EDITORIAL
ACBAR - From Words to Actions, our responsibilities as NGOs
By Fiona Gall, Director of ACBAR

A recent survey conducted by ACBAR found that 137 of its NGO members employ 26,510 staff. Of these 300 individuals have some form of disability, or 1.1% of the total number. This is well below the 3% recommended in the National Disability Law of Afghanistan. So why is this important? As we know from international research, people with disabilities face discrimination in society when it comes to access to education, health, employment and social inclusion.

Employing people with disabilities gives them dignity and self-respect as well as chance to contribute to their family's economic condition. In Afghanistan people with disabilities are often treated as victims and recipients of charity rather than individuals with potential and abilities. Fortunately there are over a dozen international and national disability NGOs who have supported projects to empower persons with disabilities and provide services for them during the last 30 years, but mainstream organisations, private sector and the government have been slow to follow their example. So this 3rd December we need to think how we can do better as humanitarian and development NGOs to include people with disabilities in our target beneficiary groups and also encourage individual men and women with disabilities to work in our organisations.

Afghanistan has signed the UN Convention for Rights of Persons with Disabilities (UNCRPD) and its Optional Protocol in September 2012 which clearly articulates the need for social and economic inclusion of people with all types of disability in society. Mainstreaming and disability-inclusion are increasingly recognized as effective strategies and are featured in international development frameworks and efforts, such as the 2030 Agenda for Sustainable Development, the Sendai Framework for Disaster Risk Reduction, the World Humanitarian Summit, and the New Urban Agenda.

Signature of the Convention for Rights of Persons with Disabilities requires that the State submit a progress report after two years and then every four years. The 2014 report has not been submitted by the Government of Afghanistan. In addition, the National Law for the Rights and Privileges of Persons with Disabilities, approved by parliament in 2009, has never been entered in the official Gazette and discriminates between groups of persons with disabilities, privileging war victims more than other groups. It needs to be revised in accordance with the UNCRPD.

This year it is 10 years since the UNCRPD was adopted by the international community. It is a good time for us in the NGO community in Afghanistan to advocate for revision of national laws and policies to reflect the commitment made by the Government and to ensure people with disabilities are not forgotten in our work.