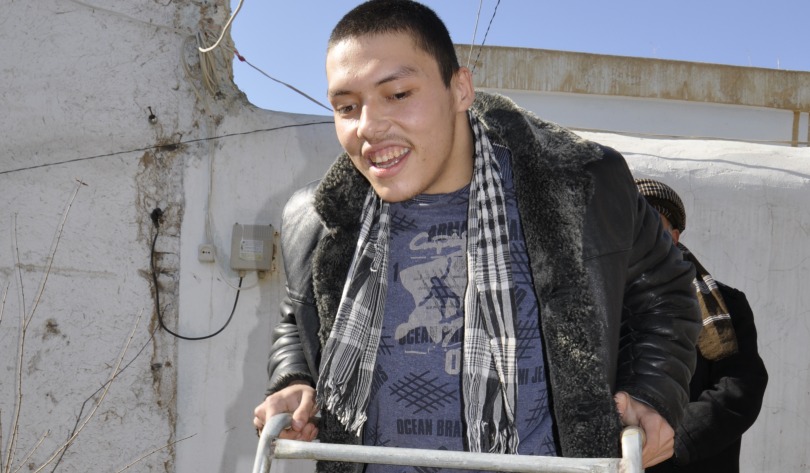 Copyright Björn Lindh / SCA
Swedish Committee for Afghanistan
In Afghanistan close to 70 000 children go to schools run by the Swedish Committee for Afghanistan (SCA). Over two million people receive medical care each year at clinics and hospitals run by the organization. SCA also supports rehabilitation of persons with disabilities and contribute to development in rural areas.
Women, children and persons with disabilities benefit from SCA's activities. Life becomes easier to live when there are schools for children in rural areas, midwives that reduce maternal mortality and prostheses for people with disabilities. SCA support individuals and organizations in developing their own capacity, and to demand their rights.
SCA has over 5 000 Afghan employees, all contributing to stability in an unstable country. For more than 30 years the organization has been present among those in Afghanistan who need it most; despite war and conflict. SCA has decided to stay as long as needed.
The Swedish Committee for Afghanistan (SCA) is working in Afghanistan since 1980. SCA's vision is an independent Afghanistan in peace, where human rights are respected, rural communities are empowered and all Afghans have the right and opportunity to democratic participation in the governance of their country.
The work encompasses programmes for education, health, support to persons with disabilities and rural development. There are also support units for all programme activities relating to quality assurance, civil society, human rights & gender and communications.SCA's main target group is the rural population, specifically women and girls. Operations include capacity development, advocacy and service delivery. The work is always conducted in close cooperation with the local population.
Learn more about SCA
Disability Awareness Week
PORTRAIT
SCA - Moving forward despite disability
By Björn Lindh, Communication Manager for SCA
Originally published on SCA website

Calling Taj Mohammad a vivacious young man might sound like a cliché - but there are no better words to describe him.
"I'm able, not disabled", he tells us, in English.
In spite of his cerebral palsy, he considers himself capable, just like anyone else. And he can prove it: while he has not gone to school yet and spends most of his time at home, Taj has managed to pick up some English, and even some Russian, thanks to his family who used to live in Tajikistan. In his room is an old computer, which he tries to learn to handle. Now and then, children come to visit and ask him for help with their homework.
"Sometimes I take a walk with Dad. The problem is that there are people in the neighborhood who bully me", says Taj Mohammad.

Taj Mohammad's cerebral palsy is a challenge to living a full life. But with training from both the Swedish Committee for Afghanistan (SCA) and from his father, he is now able to stand up and starts walking, using a walking frame. According to his plan, he will finally start school this year at the age of 17, with the dream to become a teacher.

In Mazar-e-Sharif, where he lives, he receives home-based training from SCA. In Jowzjan, Balkh and Samangan provinces, a total of 676 families with children with disabilities benefit from the visits of 52 Community Based Rehabilitation Workers. The program also includes six physiotherapists.

A rehabilitation worker visits Taj Mohammad three times a month. They get along very well and the young man is proud of what they have achieved together. Among other skills, Taj learnt how to eat with a spoon. Before, he could not eat without help. While these exercises are essential, three times a month is not enough to go forward. A lot of responsibility is placed on the "family trainer" – his own father. Raz Mohammad, a silent man, dedicates a lot of time and energy to support his son: a crucial assistance for Taj's future.
It is estimated that there is a person with a disability in one in every five Afghan households. Ignorance and prejudice mean that this group is often excluded from social contexts, schooling and health care. They often suffer severe poverty and become dependent on others for their survival.