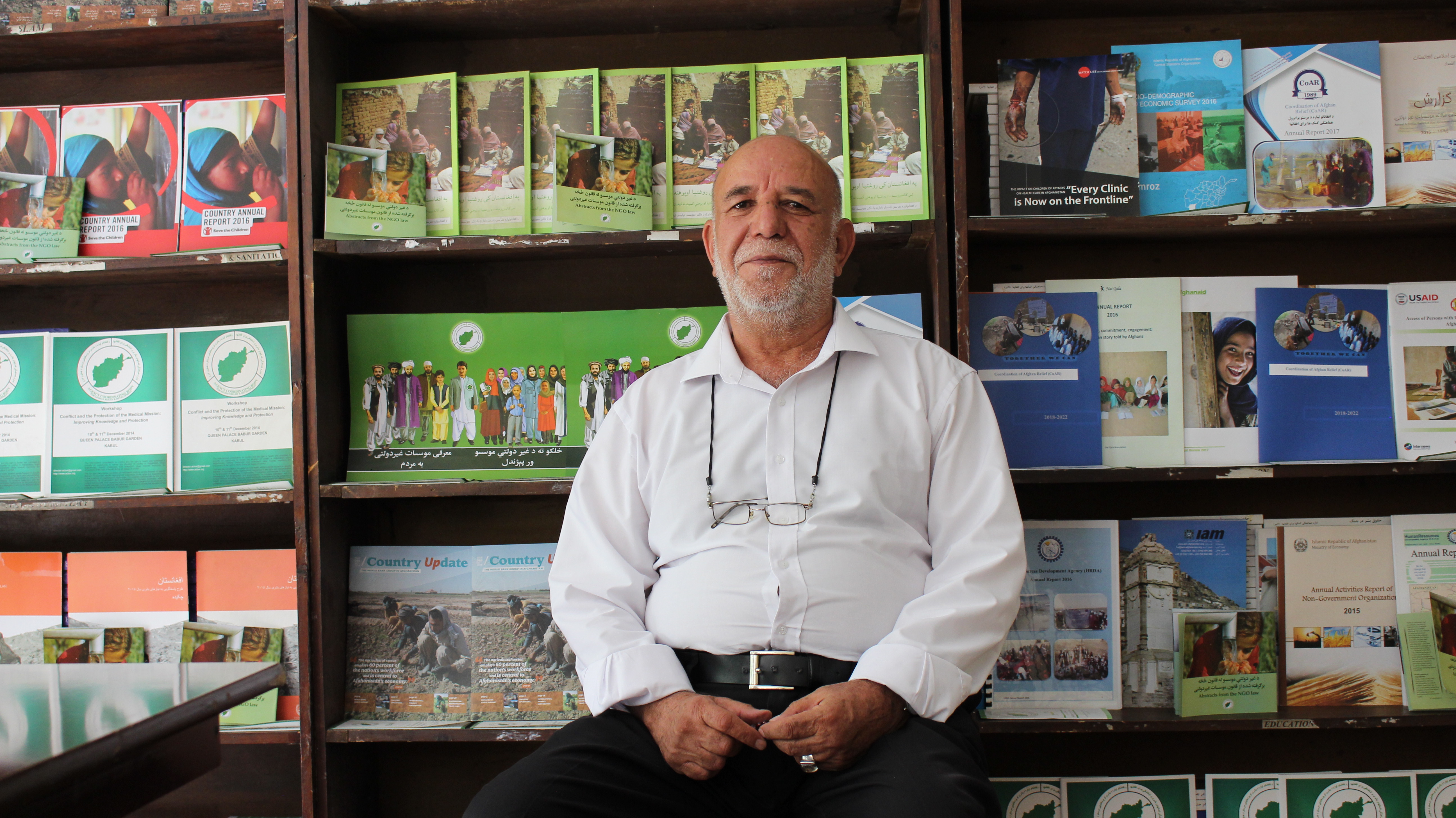 Interview with Mr. Amanullah Jawad - NGOs should have their own role in Afghanistan
Looking Back
After the collapse of Communist regime and establishment of the Mujahideen government and then during the Taliban regime there were no Government agencies to provide proper services for the people and affected community in Afghanistan. This is the right occasion to mention that NGOs and ACBAR members were there to provide the required services for the people even in very remote areas of the country.
Initially NGOs started their work with Afghan refugees in Peshawar, Pakistan. After the collapse of communist regime and during Mujahedin government the NGOs expanded their service inside Afghanistan. After 2001 and the start of the Karzai government the numbers of NGOs increased up to 3,000 registered with Ministry of Economy and among these unfortunately were NGOs that did not have a clear and specific scope and commitment to the people of Afghanistan. Therefore, we need to distinguish these NGOs. Currently we see that the Government criticizes the work of NGOs and say that the NGOs are corrupt. This is not accurate and there are NGOs who have a specific commitment towards the people of Afghanistan since they have started working in Pakistan. Sadly there are others who think only of their pockets. That is why the reputation of NGOs is bad.
Concerning gender and women's rights I remember one incident in 1997 when we went to do a survey with an expatriate colleague in Logar province to assess the effects of floods on the farmers. My colleague requested to meet the Taliban district governor and the meeting was arranged. The district governor asked my colleague: Why does your Government does not recognize the Taliban Government? He responded that one of the reasons might be that the Taliban government did not respect the rights of women. The governor replied: "When you travel from Gardez city to Logar, how many check points do you see? Were they men or women?" He replied, "All were men." The Governor continued: "Those people holding rockets on their shoulders that destroyed the villages and cities, how many of them were men and how many women?" Again my colleague replied: "They were all men." The Governor said: "When you go back to Gardez city, on the way the thieves that steal all your stuff, how many of them are men and how many women?" My colleague replied "Probably all men." The Governor concluded "So you can see that we have problems with our men, not our women, and still you are raising concerns about the rights of women and their problems!"
When the Soviet Union left Afghanistan, one of the main reasons that Afghans left the country was that the entire infrastructure such as factories, clinics, water irrigation canals and schools were destroyed. In Such a conflict situation which there was no central government and rule of law, we were working for the survival of the people. Due to lack of labor and work opportunity, the people were lived in a dreadful condition.
Work with ACBAR
In terms of achievements during my time as a member of Steering Committee and Chairman of ACBAR, I think we worked very closely as a team with national and international representatives on the Steering Committee. Amongst other things we looked at improving the capacity of national NGOs regarding proposal writing and receiving funds from international donors. In recent years, with the collaboration of ACBAR's training and Twinning programmes the capacity of National NGOs significantly has been improved and now they are able to apply, receive funds and implement different projects in a high level which is one of the significant achievements of last few years. Also we saw an increase in the gender balance in ACBAR and now a number of qualified and experienced female employees are working which is a positive achievement. Another achievement was creating good coordination with Government Ministries which is one of the main activities of ACBAR; for example advocating on tax and reporting issues on behalf of NGOs under Article 24 of the Brussels SMAF commitments.
Two challenges I see are firstly, the continued lack of coordination: there are a lot of coordination bodies such as AWN, ACBAR, ANCB and SWABAC and ACBAR has worked hard to collaborate with all of them and provide support and advice. The second challenge is still distinguishing between good NGOs and bad NGOs. We need to cooperate with government to distinguish between NGOs and identify those NGOs who are not reporting and complying with the NGO Law. Those NGOs that are corrupt and implementing weak projects should be dissolved by Ministry of Economy immediately. Those NGOs who are reporting on time, who are not corrupt and can demonstrate the quality of their work need to be encouraged by the Government and the International community.
Future Role of NGOs
NGOs should have their own role in Afghanistan. The Government is responsible to provide services for the people and community. NGOs need to monitor the policies made by government and assess if they are based on needs of the people and observe whether the policies are being implemented by government or not. NGOs should influence policy makers to ensure the needs of the people are included. Currently ACBAR has started a working group to look at the Citizen's Charter program. ACBAR is monitoring that if the Citizen Charter is meeting its objectives or not. This watchdog role is important.
Finally I think ACBAR has an important advocacy role to continue to raise problems and issues with the Government on behalf of and NGOs and help to solve them. As we see, in the past people had little trust in NGOs and they did not believe in activities of NGOs but ACBAR has efficiently solved these issues through printing of booklets and campaigns to promote the creditability of NGOs.
Mr. Amanullah Jawad, Deputy Director of RRAA (Rural Rehabilitation Association for Afghanistan), a national NGO member of ACBAR, was member of ACBAR Steering Committee from 2006 - 2017 and Chairman of ACBAR Steering Committee for 2 years from 2014 - 2016.