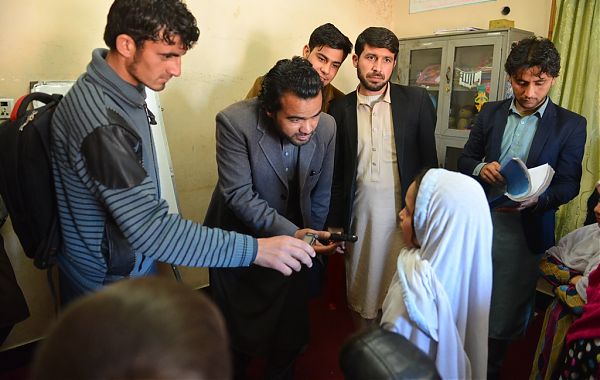 Stories From Afghanistan
TELEGRAM
Media and the humanitarian community: Fostering understanding
Humanitarian Principles, Media, NGOs,

In Afghanistan, the relationship between aid organisations and local media varies widely, from close collaboration, to lack of understanding of each other's work or even hostility and suspicion leading to inaccurate or limited reporting of humanitarian stories. Yet in times of humanitarian crisis, both groups are essential in supporting local communities, by raising awareness about unmet needs and by alerting decision makers.

In order to promote humanitarian principles and dialogue between media and Non-Governmental Organisations (NGOs), ACBAR and news organization Nai Supporting Open Media recently trained 60 local journalists on 'Humanitarian principles and Humanitarian Reporting' in Kunduz, Herat, Jalalabad and Mazar. The collaboration allowed young radio, TV and print reporters to meet and visit local NGOs and to debate the key principles of neutrality, impartiality and independence as well as to focus on the role of media in raising awareness on neglected humanitarian issues.
"The topic was completely new to me and "humanitarian" had always sounded very abstract," explained Farzana, who works for Baktar News Agency in Herat. "Being confronted with real life humanitarian dilemmas and discussing them with NGOs made me understand that we share similar principles. For example, we too strive to report while doing no harm and remaining neutral."

The training encouraged journalists to report on humanitarian issues, by mentoring each reporter and organizing a competition between the participants overseen by a jury of senior journalists and Nai. A TV report on IDP families in Herat and a radio story on people with disabilities in Balkh are amongst the favorites. The prize-winning story will be published on ACBAR's website, end of April.

"We understand as well the challenges for journalists, whose stories often get refused by editors because they are not breaking news," explained Nawid, Nai's trainer, "so we mentor them in finding the right hook in a humanitarian story. We are also conscious NGOs have a role to play in alerting the media and sharing their success stories better."