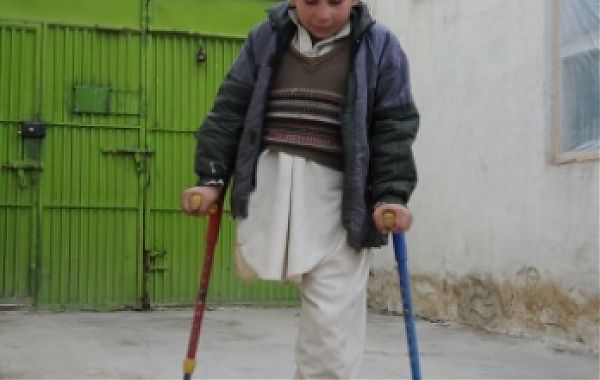 Stories From Afghanistan
OP-ED
ALSO: Needs Driven, People Centered
International Day for Mine Awareness and Assistance in Mine Action, Disability
By Nasem Aliyar, Program Manager
On 8 December 2005, the UN General Assembly declared that April 4 of each year shall be observed as the International Day for Mine Awareness and Assistance in Mine Action. This day is also celebrated each year in Afghanistan by government and civil society organizations.
Afghanistan is still one of the affected countries in the world where mines and explosive remnants of war constitute a serious threat to the safety, health and lives of the civilian population, or an impediment to social and economic development at the national and local levels.

By 2023, Afghanistan has to be free of mines, but challenges include minefield and battlefield contamination in Afghanistan are 598.3 sq km in 1,530 communities, 257 districts and 33 provinces (MAPA FAST FACTS, Oct –Dec 2016).[1] However, conflicts are going on in different parts of the country, which new challenges are adding as a result to the current situation. Report shows that in 2015, the mine caused 1310 casualties; 34% of them were children and 66% were adult, with 1% increase in comparison with 2014 causalities. Unfortunately, Afghanistan has the highest number mine casualties in the word for the last 5 years (Landmine Monitor Report 2015).

On other hand, 2.7% of populations of Afghanistan are persons with disabilities/survivors, who need immediate care (NDSA 2005). But the government has no clear, specific policies to provide adequate support for rehabilitation and inclusions of persons with disabilities/survivors in society.

However, in recent years new opportunities created for the people of Afghanistan by technical and financial support of international communities for rebuilding of the infrastructure of education, health, economy and social sectors. Many schools were built for millions of boys and girls all over the county. Despite, the opportunities, persons with disabilities/survivors have been facing different challenges continuously in society, deprived of their basic rights to education, employment and healthcare.

The government of Afghanistan has ratified and approved the Convention on the Rights of Persons with Disabilities (CRPD), Convention on Cluster Munitions (CCM), National Law on the Rights and Benefits of Persons with Disabilities (NLRBPD) and Mine Ban Treaty (MBT). The ratification and approval of these national and international laws obligate the government to take necessary measures to promote and protect the rights of persons with disabilities/survivors to enjoy their basic rights. Unfortunately, the government does not have any priorities for the implementation of the laws and conventions.

Disability issues are not on the priority list of the government and donors, which resulted in huge decrease of supports in disability sector. The disabilities/survivors organizations strongly expect the government of Afghanistan and donors to put disability in their priorities.

We also strongly request all sides involved in the current conflicts to protect the lives of civilians. Protection of the civilians has to be on their priorities in conflict areas. All sides of the conflicts have to respect the intentional laws on the rights of civilians.
[1] http://dmac.gov.af/publications/fast-facts/#1490557033151-e2315103-3a3e