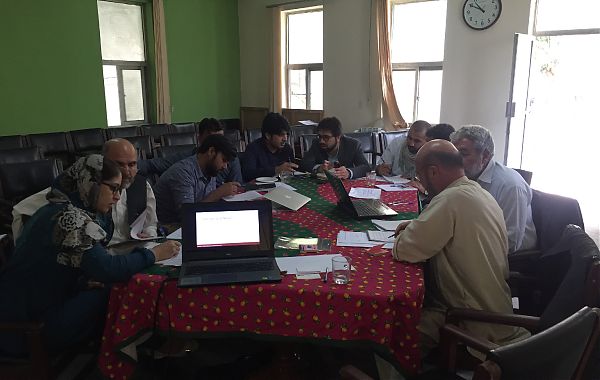 ACBAR Twinning Program
INTERVIEW
"Read, read and read again the Request for Proposal !"
Proposal Writing Training for Afghan NGOs
In July 2016, ACBAR Twinning Program selected the consulting company ATR Consulting to organize a special Proposal Writing training for 22 National NGOs. Stepping away from the regular training formats (one-shot course over consecutive days), ACBAR opted for a progressive and tailor made methodology: divided into two groups, the NGOs received 6 sessions of 2 days trainings over six month and close individual mentoring from the trainer.
As some of the trainees are today are winning new proposals, we met with Ms. Lola Cecchinel, director at ATR Consulting and lead trainer, to reflect on the ACBAR/ATR Proposal Writing Training. One of the major lessons learnt is that the long term approach allowed the development of a two-way learning relationship, where the trainer and the trainees work together to find the basis to create and build on new knowledge.

ACBAR: Why was there the need for another proposal writing training for national NGOs?
Ms. Cecchinel : Proposal writing is not just a writing exercise, it is the very design of a project. A proposal defines the objectives, the articulation between activities and these objectives, and outlines the road map to reaching these objectives within specific resources (time, budget, human capacity). It will be used as a guiding document by different team members throughout the entire project life cycle, and amended if necessary. Whether it's an individual or a team effort, writing a proposal requires knowing about project strategy and design, project implementation, monitoring and evaluation, and these skills need to be expanded within NNGOs. The more structured and precise the proposal will be, the greater the quality of the project.

ACBAR: When it comes to proposal writing, what major gaps did you identify in the trainees knowledge?
Ms. Cecchinel : The biggest difficulty for NNGO participants is first to establish, and then question the causality between what they are doing (activities) and what they want to change at the end of their project (outcome). Most have a mechanical approach to writing proposals, copy-pasting from the RFP itself or from other proposals. Projects are being laid out without much thinking being done and this for various reasons (the complexity of RFPs, time constraints and a perception that donors will fund projects even if they are poorly designed). For proposals to be of a better quality, both NNGOs and donors need to review their quality standards.

ACBAR: Many NGOs would like to hire consultants to write their proposals, because they do not have a proposal writer, or simply because they think their English level is not good enough. What is your opinion that?
Ms. Cecchinel : I understand how much of an energy and time-consuming exercise proposal writing is, especially for NNGOs who do not master either English or the RFP language itself. However, I believe outsourcing proposal writing to an outside consultant is defeating the purpose of building internal skills within a NNGO, unless the consultant takes a pedagogical approach to writing it. There are other solutions for donors to consider in order to help NNGOs that do not have the internal capacity to produce well-written proposals. For instance, simplifying RFPs, allowing sections of proposals to be written in Dari, planning for face-to-face presentations of proposed projects, etc.

ACBAR : What are the key steps in proposal development? Can you please share some useful tips?
Ms. Cecchinel :
1. Read, read and read again the RFP. This was the first topic of the training. It may seem obvious, but many participants used to glance over RFPs and/or not understand its content. Trainees practiced on multiple RFP formats to identify the key information, understand the language (what is meant by "objective", "outcome" or "delivery plan"?) and how to follow RFP guidelines.
2. Fill in a simple logframe format with the identified goal, outcome(s) and activities and work around this during proposal writing
3. Request clarifications to the donor when the RFP is not clear enough
4. Use very simple sentences and bullet points if easier to explain the logic between the proposed activities and the intended outcome/goal: "The activities implemented will be …"; "As a result, the outputs will be …"; "These outputs will achieve ….";
5. No copy-pasting….!

ACBAR: Proposal writing is such a broad topic. How did you organize the training?
Ms. Cecchinel : Indeed, it is a vast topic and considering the time allocated for the training, it was important to define what were the core issues we could realistically address. The first step was to define what were the needs in terms of proposal writing among participants and understand what were the gaps identified by donors themselves when reviewing proposals. Short surveys were sent to a sample of donors as well as training participants, and the first training session was planned to test and assess capacity. The following sessions were constantly adapted based on difficulties encountered and progress made. Flexibility in the curriculum was key to ensure that both groups of trainees were properly digesting the content of the courses. Often, the curriculum had to be reduced in order to spend more time on topics that were not assimilated as fast as expected, or to adapt to organizational setbacks (absenteeism, lack of punctuality). It became obvious that practical work needed to be increased in the training sessions. In the last courses, individual exercises and group work made up the entire training sessions. As each group of trainees was relatively small, the instructor could spend time reviewing and coaching each trainee's work. Finally, it was important to diversify learning formats, for instance by inviting guest speakers andworking on trainee's case studies as well as on current RFPs.

ACBAR: What are the major achievements of your training?
Ms. Cecchinel : The major achievement is that in both groups, trainees were confident in deciphering a RFP from start to end, understanding the logic between activities-outputs-outcome-goal, and why it matters for proposal writing. Obviously, the effect of the training was greater for those who had attended all training sessions. Attendance through the training was definitely a key factor in determining success, especially so as it stretched over six months. Another indicator of effect was that many trainees reported being able to lead, guide and/or confront their colleagues during proposal writing. There is no doubt though that the training was not realistically meant to produce proposal writing experts. There is definitely a need to pursue such training in order to reach higher-level objectives.

ACBAR : What are your recommendations to the donors?
Ms. Cecchinel: I would recommend simplifying the language of the RFPs and standardise the proposal formats to reduce potential for confusion and misunderstanding of requirements. If donors increase their involvement of NNGOs in reflective discussions and knowledge sharing events about humanitarian intervention and development, NNGOs would benefit from greater exposure and participation in discussions with INGOs, donor institutions and government. In turn, NNGOs could share valuable experiences and ideas, in particular on how to design interventions. More practically, there is a need to improve NNGO-donor interactions around RFP and proposal expectations during and after the tendering process to reduce the risks of RFPs being misunderstood, and to provide constructive feedback to NNGOs that did not qualify

ACBAR What did you learn from this?
Ms. Cecchinel: So much! The fact that the training stretched over several months with the same group of trainees was a fantastic opportunity to develop a two-way learning relationship. Progressively, this relationship helped all of us overcome several counterproductive but common attitudes in training in Afghanistan (passive listening to a single speaker, fear of asking questions, siding with an influential trainee etc.). This training was personally challenging, as it required constant adaptation of the content of the sessions to the trainees' capacity and to be as creative as possible to transmit key knowledge points.
The Twinning Program is funded with UK aid from the British people.