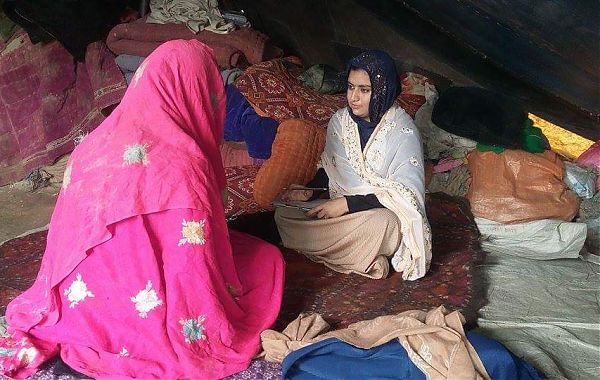 Stories from Afghanistan
ARTICLE
Pulay Poray drama, Radio, IHL
Take the case of Kashmala. A widow, she has been one of the main characters of Da Pulay Poray drama since its original inception in 2008. In 2014, the production company that makes Da Pulay Poray drama – PACT Radio – conducted audience research into the impact of the drama. It turned out that Kashmala's resistance of forced remarriage to the brother of her deceased husband, and marriage of her own choice to a school-teacher – with her father's consent – was the second most popular storyline in the drama. 28 per cent of respondents cited this storyline as their favorite. It came a close second in popularity behind a tussle in the village, between the head of the community development shura and the village headman – a familiar scenario in Afghanistan.
Though Kashmala's insistence on her right to marry a person of her own choice in many ways flies against local tradition, it is in accordance with the right of self-determination accorded to widows by Islam. So it was not surprising that Kashmala found a place in the hearts of listeners. Kashmala also had support from listeners when she demanded her rightful inheritance from her maternal uncle. Taking umbrage at this stand of Kashmala, her maternal uncle, who also happens to be the village malik, was complicit in burning down the house that Kashmala had built on the land she had inherited. This was too much for some members of the Shinwari tribe in eastern Afghanistan. They rang up the producers of Da Pulay Poray drama. 'We have had enough of this cruel treatment of Kashmala,' they said. 'We ourselves will come and rebuild her house for her.'
PACT Radio has plenty of plans for Kashmala, along with other characters of Da Pulay Poray drama. Her house now rebuilt, Kashmala has set up an embroidery and sewing centre for village women in Kandao village, the fictional village where Da Pulay Poray drama is set. Currently, she is engaged in looking for a market for the items that the women produce. She is even tapping the foreigner market, in Kabul. Her younger sister Zarmina has refused a marriage proposal, in order to work by her sister's side. Kashmala featured prominently in a recent storyline, run in Da Pulay Poray drama on behalf of ACBAR. The storyline centered on International Humanitarian Law (IHL). One of the principles of IHL is that you treat anyone, friend or foe, regardless of which group the person requiring treatment may belong to. So it was that the very person who had burned down Kashmala's house – a local ruffian by the name of Zafar Khan – was wounded and losing blood fast. The only person who was qualified to give him treatment was Kashmala. She did so, much to the annoyance of her sister Zarmina.
When PACT Radio researched the impact of this storyline, a big majority of listeners supported the action of Kashmala, in giving treatment and saving the life of her sworn enemy. 'One should not be prejudiced even with bad people when they are suffering or injured,' two women in Surkh Rud, Nangarhar said. 'One should treat them on a humanitarian basis.' Interestingly, what opposition there was to Kashmala treating Zafar Khan came not because it was her enemy that she was treating. It came on the basis of the fact that she was a woman, and should not treat a man. 'Women should treat women,' Hamidullah in Surkh Rud said, 'not men.'
So there is still plenty of work to do and Da Pulay Poray drama is fulfilling a important role – winning over hearts and minds to a more humanitarian outlook. Perhaps even more importantly, Da Pulay Poray drama is giving hope to Afghans. Soap opera, while being based in real life, is always a shade better than real life. The problems that are reflected in Da Pulay Poray drama are the problems based in Afghanistan, in real life. However, often in real life, there seems to be no hope of any solution. In Da Pulay Poray drama, there is hope. That is why the stories of Da Pulay Poray drama make one inclined to laughter and good humour, an important component of life of which sometimes Afghans seem in short supply.