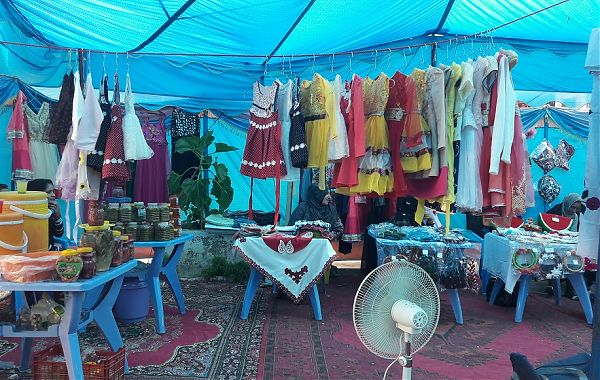 Stories from Afghanistan
ARTICLE
Women, Handicraft, Economy, Education, Gender equality
"All I was doing was household duties, but there was no income, no hope" Laila recalls with emotion. In 2016 in Jalalabad, she met the team of Zardozi, an Afghan NGO established in 2005 and focusing on women's economic empowerment in different parts of Afghanistan, mainly in the villages. Laila had never been to school nor did she ever have a job before: working was a struggle. At first, her only objective was to earn enough to buy bread for her children. Then, she started by participating in trainings: sewing, tailoring but also learning the fundamentals of business, such as managing orders, keeping finance records, pricing product, and communicating with clients.
Once her training completed, she started to work for her own and from home, getting orders from in her relatives and villagers. With her old machine, she is now able to stitch "shalwar kameez", Punjabi dresses, shirts and children dresses. Earning enough for the daily expenses of her family, she is planning to expand to markets once her revenues increased.
"My monthly income is 5000 – 7000 Afs now, I am happy with my life. I can send my children to school. I myself dream of going to school and getting an education. My hope is that more women will follow my path. Women should be able to work"
Over twelve years, Zardozi has trained 4,882 women in different provinces of Afghanistan. "We enroll women with a basic rule: they must have a motivation and be in the right mind to start a business" explains Hassina Aimaq, acting program director for Zardozi "Our community workers talk to the women, encouraging them to work for themselves and create their own businesses. Once they join us, we provide them some business and technical learning materials. Some women will want to pursue training in tailoring, others in beauty parlor or wool-spinning. It also depends on the local economy of their area."
Working or following training outside their homes can be very challenging for women. Hence Zardozi provides a safe place of work near their home: "We have rented places for these women in their own areas, so they do not have to travel far to get to work. They are 'the community business centers' where women in the neighborhood gather, work and share experiences. Additionally, our workers are teaching them for 3 hours per week." Hassina explains. The fee to participate in the program is 50 AFS, an investment that encourages long term attendance. Zardozi also provides loans ranging from AFS 5,000 to AFS 50,000 to help women kick start their business. Most of the women participating in the program manage to earn between AFN 5,000 to AFN 15,000 per month, which helps a lot to cover expenses.
At 24 year old only, Zarifa is trying to build her own community business center, close to her neighborhood. She joined Zardozi a few years ago "The best chance in my life" as she recalls. "I have not only learnt a job, I have also learnt about my own society, being able to talk with women outside of my family".
Today, Zarifa is an experienced tailor and women in her neighborhood are her clients. Convincing her 18 member family was not easy, but she manages to earn AFN 8,000 per month and proved to her relatives that her job was a real game changer for all. With her revenues, she not only manages to financially support her family, but also started training her two sisters in tailoring. Her story reached other women of the village, who, encouraged by Zarifa, will be following Zardozi's induction in the near future.
In this program, priority is given for women like Laila or Zarifa, who lost their husband or did not have the chance to go to school. To monitor progress, Zardozi selects a representative in each area, train and give them a small honorarium and transportation cost to coordinate with the NGO's central office. These focal points identify women who face the most difficulties and work with Zardozi to give them extra support.
To sell their product, Zardozi accompanies women to the market, so they can observe how to communicate with shopkeeper and pitch their product. Regularly, Zardozi also organizes exhibitions in different parts of the country "it becomes a joint market place that attracts more visits, especially women, because women made products are adapted to specific women needs." continues Hassina. "We also create awards and competition; we celebrate the most successful woman of an area, with a ceremony that gathers both women and men". Zarifa's success will be celebrated in few months, Hassina says "This is a well-deserved award and will boost her confidence!"
__________________________________
[1] http://lacuna.org.uk/equality/widowhood-in-afghanistan/
[2] http://www.un.org/apps/news/story.asp?NewsID=50111#.WUpmYelpzIU