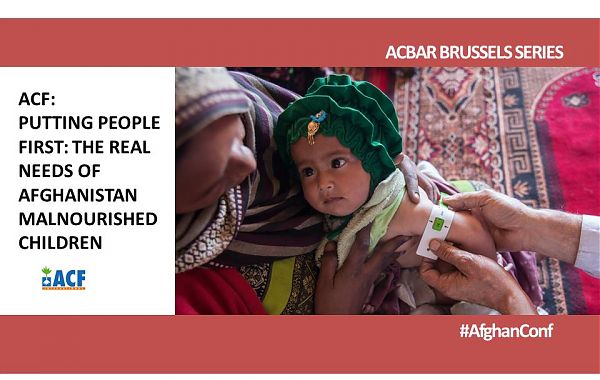 The Brussels Series
OPED
ACF: "Putting people first: The real needs of Afghanistan malnourished children"

Although Severe Acute Malnutrition is a widespread problem in Afghanistan and the Nutrition Cluster estimates that 2.9 million people are affected by malnutrition, the malnutrition management is still not a priority by the Afghan government. The number of children killed by conflict in 2015 represents less than 1 per cent of the estimated number of children dying due to malnutrition in one year in Afghanistan.[1] In addition, Afghanistan has the second highest rate of under-five mortality in the world, with thousands of children dying every year.
Nutrition is both an immediate and an underlying cause of maternal and under-five mortalities in Afghanistan. Yet, the malnutrition treatment in Afghanistan can be characterized by lack of consolidation and integration within the national health system, lack of human and technical capacity of national nutrition governance, poor quality of service delivery and low coverage.
Integrated Management of Acute Malnutrition (IMAM), while officially included in the Basic Package of Health Services (BPHS) since 2010, is still not allocated sufficient resources for its effective roll-out. IMAM services are supposed to be regular, however they are very much dependent on external funding as IMAM is neither costed nor properly planned in BPHS proposals. This means that the majority of IMAM programs are funded by additional donors in order to address the gaps within BPHS system. Yet, the funding coming through the SEHAT[2] mechanism in theory should be sufficient to efficiently implement IMAM services.
In addition, IMAM programs have distinctively low coverage. Analysis suggests only 38 per cent of health facilities are providing nutrition services. This figure is all the more concerning given that health facilities only cover a generously estimated 60 per cent of the population.[3] Moreover, nutrition component under BPHS package has been under-staffed and/or under resourced. Only 50 per cent of facilities surveyed by the Afghanistan National Nutrition Cluster reported their staff had received training on nutrition in 2014.[4] Poor quality of services explains low cure rates and high defaulting rates.
Today, the international donor dependent Afghan health system is facing multiple challenges in terms of ensuring quality health services. These challenges are resulting from various internal bottlenecks related to human resources, information management, health system financing and governance as well as supply chain issues. The poor health indicators of the country and the challenges within the system will be genuinely impossible to overcome while the average per capita budget for provision of BPHS remains at the current rate.
There is a crucial need for improved and more accessible nutrition services for the population and stronger health systems. Although some improvements of child and maternal mortality are reported, these fail to represent a more complex picture about the Afghan health system in which malnutrition levels remain highly worrying. An essential need stands out for increased lifesaving aid for health and specifically bigger efforts by contracting and implementing partners to make this aid more effective. Unfortunately the current policy frameworks insufficiently address these priorities.
ACF Recommends:
To the Afghan Government:
Review policies in aid allocation, so that these focus less on governance and security concerns, and aim more to address the direct needs of the Afghan population, including the need for adequate health services and targeting under nutrition; In order to allow health and nutrition services to be funded adequately, the funding policies have to be based on the findings and recommendations of the BPHS/EPHS costing exercise which is currently being pursued.

Commit to implementing the Kabul declaration on Maternal Neonatal Child Health by prioritizing maternal and child health strategically and financially as these require life-saving assistance from all relevant actors.

To the International Donors and International Community:
Commit to ad hoc funding of frequent emergency responses by allocating funds to contingency planning, in order to assist the most vulnerable population in a disaster-prone country, including funding needed for effective implementation of malnutrition treatment as these are life-saving interventions.

To the NGO community and BPHS implementing partners:
Refer to the findings of the BPHS costing exercise while submitting BPHS proposals in order to ensure high quality of health services and cost efficiency.
[1] OCHA Monthly Humanitarian Bulletin, Issue 54, July 2016.
[2] System Enhancement for Health Action in Transition – SEHAT.
[3] OCHA Monthly Humanitarian Bulletin, Issue 54, July 2016.
[4] Afghanistan National Nutrition Cluster, Advocacy Strategy 2015 – 2016, May 2015, April 2016, available at: https://www.humanitarianresponse.info/es/system/files/documents/files/ncas_2015-16_final_v1.pdf