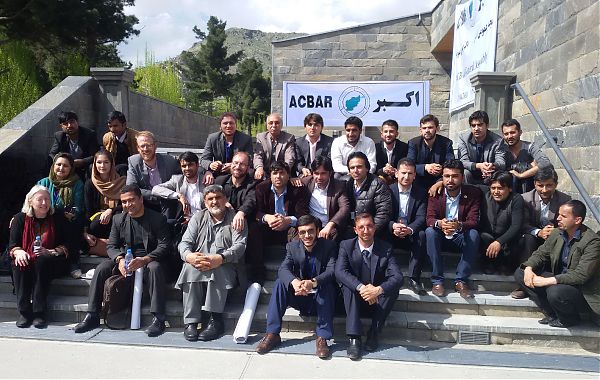 Letter to Members
EDITORIAL
Season's greetings
By Fiona Gall, Director of ACBAR
Dear Members,
On behalf of the ACBAR team, I would like to extend our best wishes for 2017 to all of you.
2016 was an eventful year for NGOs. We gathered and joined forces to advocate for NGOs' work and principles in key international events. First, in May, the World Humanitarian Summit resulted in the Grand Bargain, a promise for more flexible, multi-year funding, less burdensome reporting requirements, and local actors' capacity building. Then, in June during NATO Summit in Warsaw, we reminded armed forces their responsibility to respect International Humanitarian Law and protect aid workers. Finally in October, alongside Afghan Civil Society, we actively engaged in the Brussels Conference, to defend our role as key actors of the country's development and alert the government and donors on key neglected humanitarian issues. We were promised "increased partnership" and enabling environment, and we have organized ourselves to monitor these commitments and ensure words become reality.
2016 was painful for the Afghan population. The Joint Way Forward signed between the EU and Afghanistan, that allows deportation of Afghans to their country, as well as the forcible expulsion of registered and non-registered refugees by Pakistan ignore the reality of the situation Afghanistan today: an escalating conflict, with record numbers of civilian casualties and internally displaced people. Here again, NGOs have proved their ability to mobilize resources and competences, respond to successive crisis and advocate for improved aid delivery. But we were also challenged by our own lack of sustained core funds and access to insecure areas of the country..
We have identified challenges that will need a unified NGO approach in 2017. Attacks against aid workers, particularly on health facilities and schools have become all too frequent. Intimidation, threats and bureaucratic impediments have hindered our projects and affected the NGO community widely. Despite our different mandates and focus, we must collectively advocate for the respect of our principles, our independence, our code of conduct and the NGO law.
For 2017, ACBAR, as a representative of more than 130 NGOs, will focus on improving NGO acceptance and facilitating the operating environment in Kabul and the provinces. Revision of the NGO Law and the Tax Law is already underway and ACBAR, along with other coordinating bodies, is actively engaged. We will increase our efforts to promote the NGO law and the understanding of NGO nature and work. Simplification of reporting and Memorandum of Understanding is also one of our major objectives. We will continuously engage with the government, donors, civil society and the general public, as well as continuing to build the capacity of NGOs themselves to ensure they can effectively play their humanitarian and development role.
I would like to thank all members for their collaboration and in particular the ACBAR Steering Committee and Chairman for their valuable support and representation of ACBAR. I hope that 2017 is a year when we can all achieve good results on behalf of our organisations and further our collective mandate to serve the most vulnerable.
Best regards,
Fiona Gall