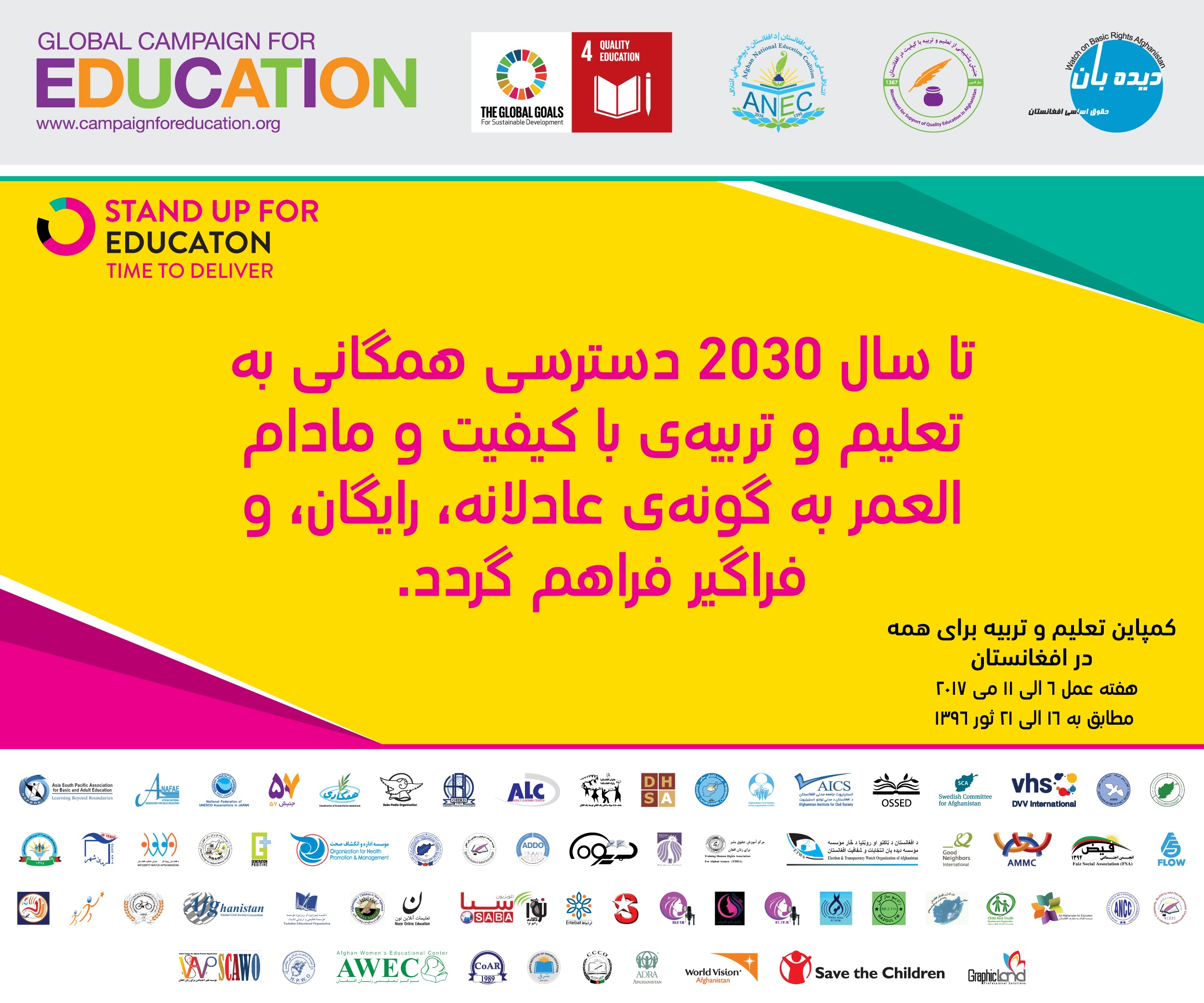 Global Campaign for Education
The Global Campaign for Education (GCE) is a civil society movement working to end the global education crisis. GCE mission is to make sure that States act now to deliver the right of everyone to a free, quality public education
Global Action Week for Education (GAWE) is an international annual campaign led by the Global Campaign for Education with support of other entities globally to raise awareness of the importance of education for achieving sustainability and the commitments made by all to reach the global education goal by 2030.
This year 2017 theme is 'Accountability for SDG 4 and Citizen Participation', it will highlight the importance of transparent, accountable and participatory governance for delivering on the full SDG 4 agenda.
GAWE-2017 campaign's aims & objectives
Global Action Week for Education 2017 will focus on holding governments and the international community to account for delivering on the full SDG4 agenda, ensuring citizen participation – asking governments to "keep your promises".
The overall aims of GAWE 2017 are to ensure that governments:
Develop, fund and implement credible plans for the implementation of the full SDG 4 agenda.

Recognize the criticality of strengthening public systems and state capacities to ensure that education is free, quality, and equitable.

Ensure that there are credible, transparent mechanisms for participation of civil society in the monitoring and accountability processes for the agenda
Global Campaign for Education
VIDEO



Stand up for Education - Time to deliver!
Afghanistan National Education Coalition (ANEC) and Movement for Support of Quality Education in Afghanistan (MSQEA) with the technical and financial support of member organizations involved in education sector will conduct the Education campaign from 06 – 11 May 2017 at national level.
Focus areas are highlighted in the Swedish Committee Afghanistan joint report, that was published prior the Brussels Conference (Oct 2016) and signed by key Education NGOs in Afghanistan (see the report here)
Safeguarding education and protecting education facilities and civilians
Fund allocation and aid effectiveness
School attendance, drop out and inclusivity
Vocational training, literacy education and link to economic development
Teacher training
The key messages and promotion material for this national campaign are all in local language, to access to all material, turn to the Dari & Pashto versions of the website