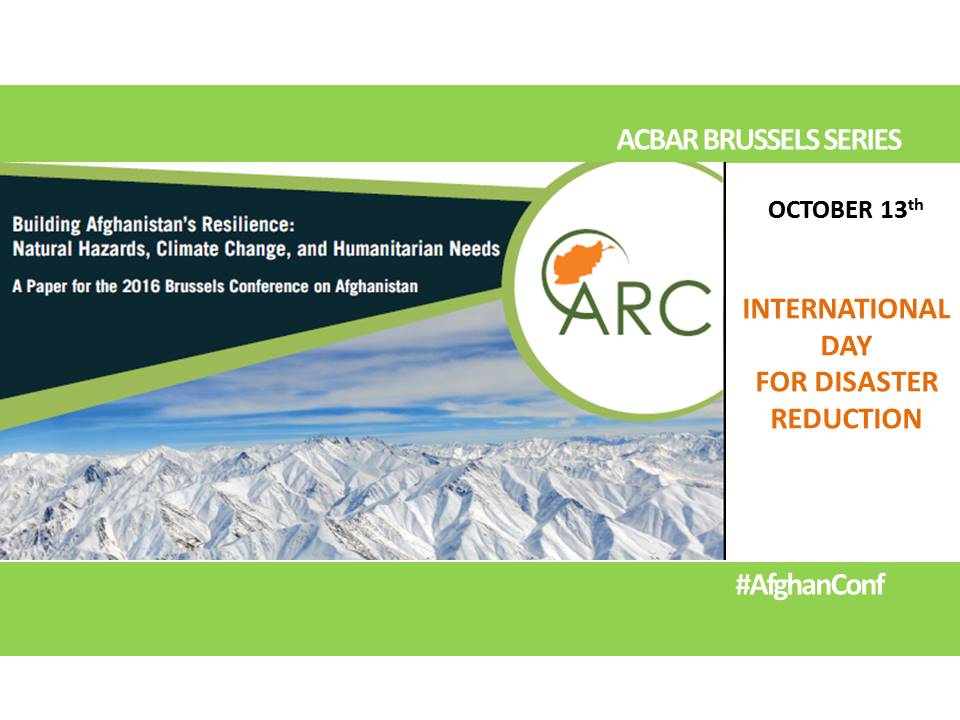 The Brussels Series
On the occasion of the International Day for Disaster Reduction, ACBAR publishes the position paper of ARC on Building Afghanistan's Resilience.
This paper was prepared and endorsed by
Afghan Aid

Action Aid

Concern

Save the Children

UNEP

ACBAR
Learn more about ARC https://www.facebook.com/afghanistanresilience
The Brussels Series
POSITION PAPER
ARC: Building Afghanistan's Resilience: Natural Hazards, Climate Change, and Humanitarian Needs

Afghanistan is facing one of the world's most serious humanitarian and environmental crises, with millions of people in need of assistance and an even greater number at risk from natural hazards and climate change. Approximately 60 percent of Afghanistan's population is threatened by natural hazards, and each year recurrent hazards affect an average of 235,000 people. More than 80 percent of the country's population relies on the natural resource base to meet daily needs, but serious environmental issues such as deforestation, desertification, climate change, aquifer depletion, ecosystem degradation, biodiversity loss, and pollution all negatively impact the resilience of the rural livelihoods that form the country's foundation.
As one of the world's least developed countries, Afghanistan cannot face these challenges alone and needs support from the international community. Unless urgent action is taken to build the resilience of Afghanistan's households, communities, and environment, much of the country's development gains over the past 15 years could be at risk. It is therefore crucial that Afghanistan and its international partners invest in disaster risk reduction (DRR) and climate change adaptation (CCA) to protect these gains, build meaningful resilience, and advance the country's development priorities.
Achieving this coherent approach to building resilience will require a combination of financial resources complemented with capacity building initiatives, the transfer of innovative technologies, policy and institutional strengthening, and concrete on-the-ground actions to directly build the resilience of local communities and encourage greater participation at all levels of decision-making. To ensure that Afghanistan can achieve meaningful resilience, the Government and international community should prioritize:
Integrating environmental concerns into humanitarian response and decision-making,
Developing a national resilience framework that integrates DRR and CCA across all levels of national development plans;
Building community-based resilience through local-level DRR and CCA planning and programming, and
Strengthening the institutions and coordination mechanism for planning and responding to shocks when they occur.
Note
The Afghanistan Resilience Consortium (ARC) integrates environment, disaster risk reduction, and humanitarian support to create lasting resilience for Afghanistan's communities and ecosystems. The ARC was established in 2014 as a partnership between Afghanaid, ActionAid, Concern Worldwide, and the United Nations Environment Programme (UNEP). The ARC's holistic approach recognizes that conflict and environmental degradation can exacerbate the impacts of natural hazards, and strives to support communities and improve ecosystem management in order to reduce the risk of disasters and build adaptive capacity to climate change.