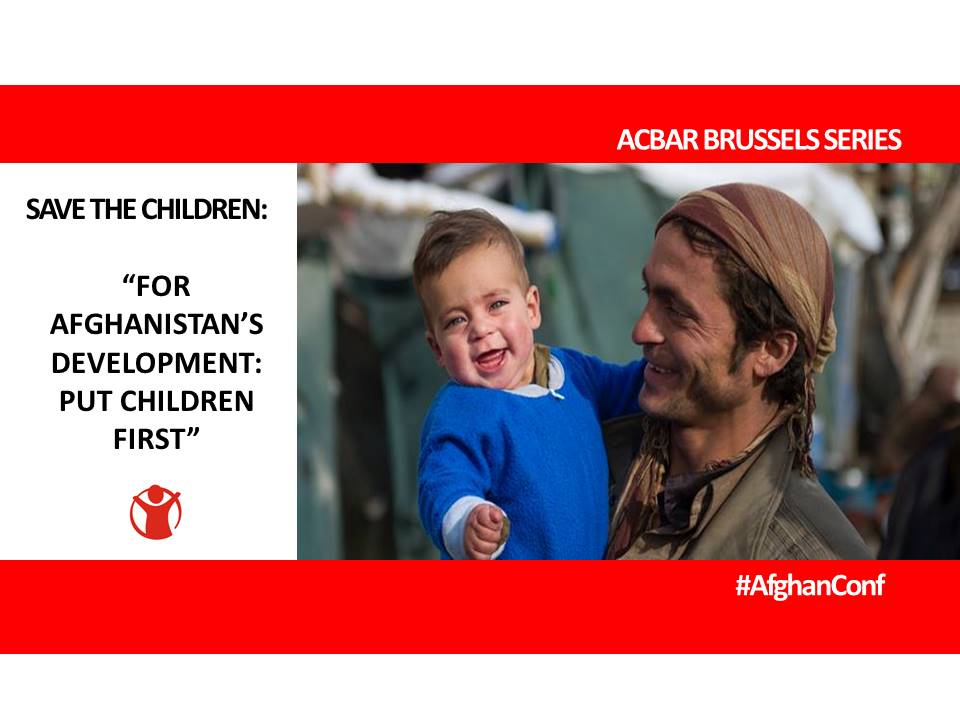 Brussels Series
Because of ongoing conflict and unstable political situation, Afghan children are deprived of their most basic rights. Among many other challenges, children in Afghanistan are violated in their homes, schools and communities, involved in harmful labor, and are facing early and forced marriages.
For the 5th episode of the Brussels Series, Save the Children raise their voice to protect Afghan Children
The Brussels Series
VIDEO
SAVE THE CHILDREN: "For Afghanistan development: put children first"

Violence against children is a major concern. According to Save the Children, three quarters of Afghan children are experiencing at least one form of psychological or physical punishment. This is not only a breach of their rights: these practices have a major impact on their development.
Corporal Punishment
While the Afghan 2008 Education Act bans corporal punishment in schools, this form of violence is still very much alive, with dire psychological and physical impact on children. For example, it can be a major push factor for dropping out of school: the emotional damage impacts on the dignity of children and can seriously compromise their future. There is a dire need for the Ministry of Education to monitor punishment in schools and take actions when such violence occurs. We Save the Children believe that for Afghan classroom to be free of violence, teachers should be trained on positive discipline, and that this subject should be included in teachers' curriculum.
Child labor
Poverty has led to the involvement of thousands of children in labor. More than a quarter of all children are engaged in child labor, including harmful work. As a result, every day, thousands of children across Afghanistan are endangering their health, and potentially risk injuries or death. Children's harmful labor should not be tolerated. We call for a proper monitoring system to be put in place, to report these practices and enable the full application of the law banning harmful work for children.
Early and forced marriage and sexual violence
In Afghanistan, one out of five young women aged 15-19 years is currently married. Not only is the high prevalence of early marriage a breach of children's right, but is also a major impediment to the development of Afghanistan. Early and forced marriages hinder children's development and compromise their health, while depriving them from their right to education and experiencing a normal childhood. Early marriage can also lead to sexual violence. The phenomenon is widespread in Afghanistan, with major impact on the physical and mental health of children. It is only by raising collective awareness that these practices will be reduced and eventually stopped. All stakeholders need to be aware of the destructive impact of these practices on children.
Child Act
In order to ensure a prosperous country, children of Afghanistan need to have access to their rights. They need to be protected from abuse and exploitation. Save the Children requests the government of Afghanistan and its international counterparts to make the rights and protection of Afghan children a political priority : carry out reforms and allocate the necessary resources to implement them. Child protection requires a presence on the ground, close to the communities. The Provincial and Districts Child Protection Action Networks have the potential to play this role. However, their work has been undermined by the lack of resources. They should be fully funded to improve the protection of Afghan children.
For the protection of Afghan children and to ensure that they access their basic rights, Save the Children calls for the approval of a comprehensive Child Act by the Afghan government. This will enable Afghanistan to uphold the rights of all Afghan children and will ensure that the Afghan legislative framework is aligned with all the provisions of the on the Right of Children and better protect children.