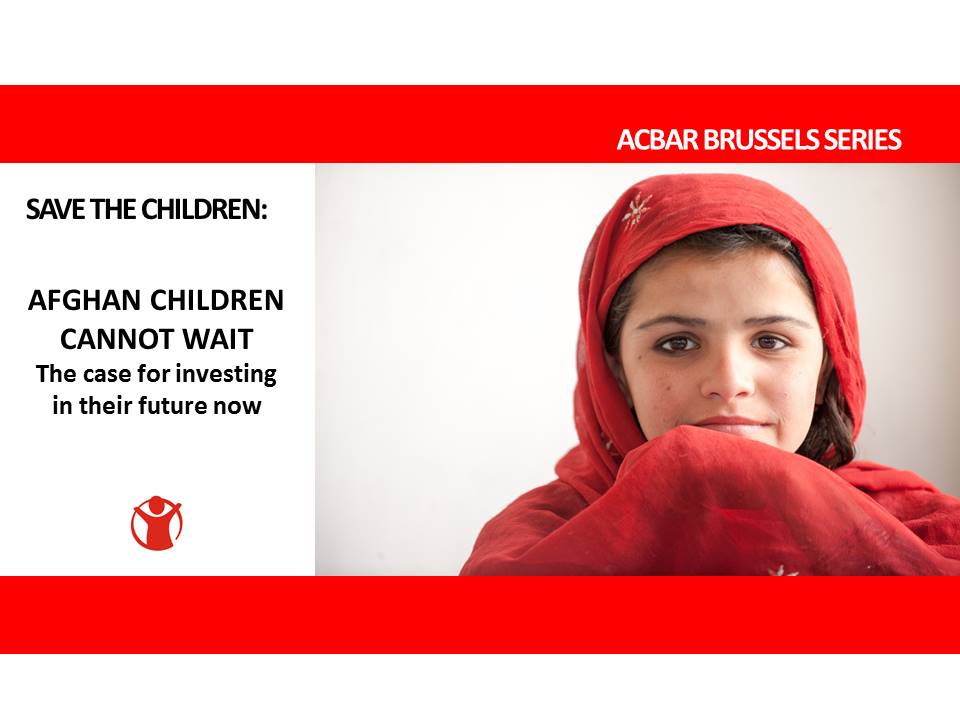 Copyright Zubair Shirzay/ Save the Children
The Brussels Series
This briefing tries to shed a light on who these children are, what they are running away from, and the risks they face en route. It was released ahead of the Brussels Conference on Afghanistan and the EU–Afghanistan high level dialogue meeting on migration (3–5 October 2016).
The Brussels Series
BRIEFING PAPER


Save the Children: Afghan children cannot wait


The case for investing in their future now
In 2015, 90,000 unaccompanied children were registered as asylum-seekers in Europe. This is nearly ten times as many as in 2012. Over half of them were from Afghanistan. A total of 178,000 Afghan asylum-seekers arrived to Europe in 2015, four times as many as the year before.
While many Afghans come to Europe, many more reside in neighbouring countries: 95% of Afghan refugees (2.5 million) are hosted in Pakistan and in Iran. The situation for Afghans residing in Pakistan has deteriorated significantly. IOM reported recently that 600,000 Afghans – registered refugees and undocumented returnees – will return to Afghanistan before the end of the year. According to the Norwegian Refugee Council, 225,000 Afghans have returned from Pakistan so far this year. They are fleeing violence, arbitrary arrest, detention and other forms of harassment in Pakistan.
Afghans constitute the world's largest protracted refugee population. Half of all child refugees globally come from just two countries: Syria and Afghanistan.5 But in spite of these stark numbers, very few people seem to ask the question why so many people – so many children – from Afghanistan undertake the dangerous, often traumatising, 5,000 km journey to reach Europe.
Growing up in Afghanistan - Key data
In the first six months of 2016 nearly one in three casualties was a child. UNAMA documented an increase of 18% in child casualties for that period compared to the same period in 2015.
The recruitment and use of children as soldiers has more than doubled compared to 2014: 116 cases of recruitment and use of children were reported in 2015.
Each year, 94,000 Afghan children die before the age of five, with neonatal mortality comprising 38% of under-five mortality.9 Less than half of Afghan children are fully immunised. Afghanistan has one of the highest levels of child malnutrition in the world, with 41% of children under five suffering from chronic malnutrition
Afghanistan has the highest level of gender disparity in primary education in the world, with only 71 girls in primary school for every 100 boys. Only 21% of girls complete primary education.
Afghan children on the road
According to a study commissioned by UNHCR in 2014, children travelling on their own are mostly boys between the age of 13 and 17. As soon as they move children become highly vulnerable to discrimination, violence, abuse and exploitation, both during their journey and at their destination.
In Norway, Save the Children interviewed 78 children coming from Syria and Afghanistan. The children who participated in this study say they lacked water, food and safe places to rest. They were exhausted, scared and afraid. Some were shot at, received death threats, almost drowned or were nearly killed. Many saw other people being killed and some saw small children who had been left behind by their parent
Their main concerns were access to education to facilitate their integration, insecurity about their status and fear of being returned.
Children who are returned to Afghanistan also face many difficulties in reconnecting with their families and communities. Coming back to Afghanistan empty-handed, without meeting families' expectations, is a potential source of stigma and isolation for returnee children, in contravention of their best interests.
Read the whole report and key recommendations, here