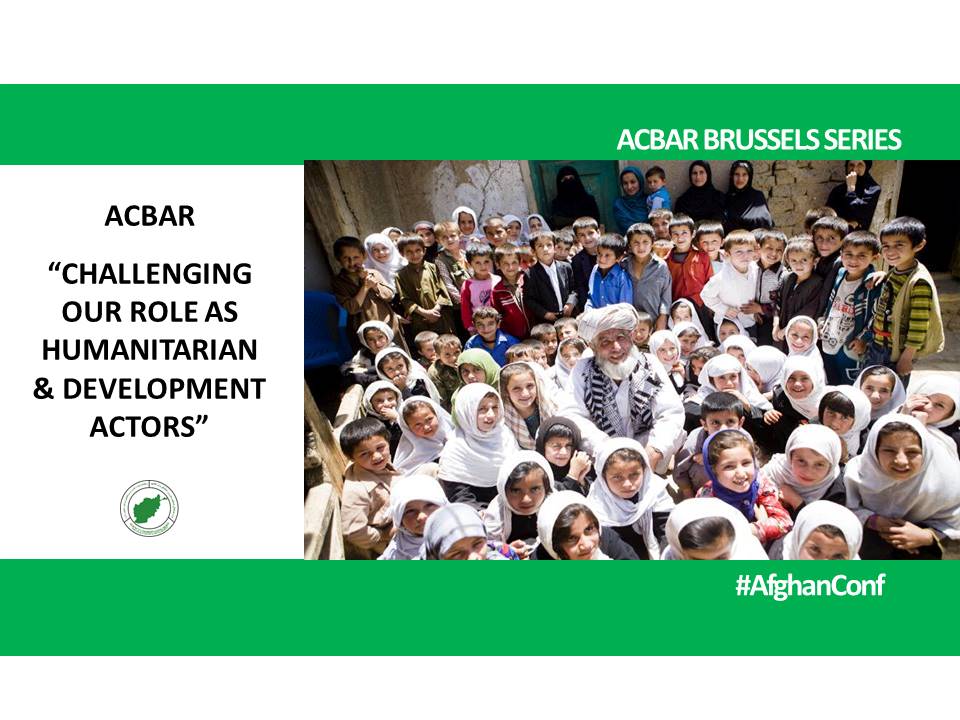 Photo Credit: Swedish Committee
Brussels Series
ACBAR is actively engaged in the Brussels Conference preparation and co-organized the National Consultation for Civil Society in Afghanistan along with other Civil Society Organizations earlier in September. As a representative of NGOs working in Afghanistan, ACBAR is advocating for development and humanitarian issues to be prioritized in the Conference agenda.
At this time when the government and the international community are committing to a mutual accountability framework, shouldn't we NGOs commit too? For the 6th episode of the Brussels Series, ACBAR challenges the NGOs and itself: Brussels Conference is also the moment for NGOs to reassess their role.
This article was first published in OCHA Humanitarian Bulletin. Read the newsletter
The Brussels Series
OPED
ACBAR: Brussels Conference: Should we NGOs reassess our role as humanitarian and development actors?

The Brussels conference is an opportunity for the government of Afghanistan, the international community, civil society, and the private sector to meet and reaffirm their partnership and commitment to Afghanistan's future.
The government will present their vision for the next 5 years. The international community is expected to renew its financial commitment to support Afghanistan state building and development. As part of civil society, NGOs, both in development and humanitarian sectors, will remind participants that funds should continue to be channeled to address basic needs: a functioning clinic in Helmand, a fully staffed school in Kunar, access to clean water for a village in Badakhshan, decent living conditions in camps in Kabul for internally displaced persons, job opportunities for youth all around the country – in short the right to a dignified life.
The situation in Afghanistan has deteriorated, with an increase in conflict and a sharp rise in internally displaced persons and civilian casualties[1]. We repeat the calls for protection of civilians, whether they live in government or in opposition held areas. We demand respect and justice from all parties in the conflict for frontline workers: from nurses to school teachers whose workplaces are raided, bombed, or threatened by armed groups, or government and international forces. We also call for a more enabling environment for NGOs, a reduction in bureaucratic impediments and political intrusion, at Kabul and provincial levels. These are preconditions for development and for the government's vision to be materialized.
A moment for NGOs to commit too
At this time when the government and the international community are pledging themselves to a mutual accountability framework, we NGOs should also take time to review our systems, our coordination and our modus operandi to be as effective and strategic as possible.
Humanitarian space – humanitarian organisations including NGOs need to reach civilians in insecure areas. Some of the most conflict affected areas remained poorly covered by humanitarian actors, especially those held by the opposition[2]. Despite the known challenges, additional resources and efforts need to be made to reach conflict affected areas, not only to assist the most vulnerable but also to maintain our commitment to neutrality.

Improve joint and impartial needs assessments and risk analysis: Significant efforts have been made in Afghanistan to strengthen the quality and coordination of humanitarian needs assessments. However, more can be done to create common data collection and analysis standards. Risk analysis can also involve development partners and local authorities, to ensure the alignment of humanitarian and development programming.

Increase partnership with national and local NGOs: Partnership between national and local NGOs and international organisations should go beyond financial transactions. It should include capacity building and joint programming in order to promote ownership and greater sustainability of Afghan organisations. In addition, partnerships amongst national NGOs should also increase.

Improve gender and protection mainstreaming: According to UNOCHA's Human Response Plan 2016, "Humanitarian action in Afghanistan continues to suffer systemic problems in assisting and protecting women and girls". Gender mainstreaming, inclusion of people with disability and the elderly in program design and implementation should be improved and NGOs should increase and promote the use of the Inter-Agency Standing Committee (IASC) protection guidelines.

Collective accountability: NGOs have been essential development partners for the Afghan people, the government and the donors since the beginning of the 1980s. Yet, there is still a negative perception of NGOs, among many government employees, the opposition forces, and the public. Collectively, NGOs should continue to be transparent and rigorous in their programming, follow the NGO code of conduct, and publish annual reports for public information.
Beyond the government and the international community, the development and progress of Afghanistan will also depend on the commitment of civil society to be more coordinated, efficient, quality driven and accountable.
This article was first published in OCHA Humanitarian Bulletin. Read the newsletter
[1] Between 1 January and 30 June, UNAMA documented 5,166 civilian casualties (1,601 deaths and 3,565 injured), marking a one per cent decrease in civilian deaths and a six per cent increase in civilians injured (UNAMA, Protection of Civilians Report, June 2016)
[2] According to HRP, Helmand provinces experienced decreases in operational humanitarian actors of around 20% last year. Besides, 1st CHF allocation review highlighted that the great majority of humanitarian actors