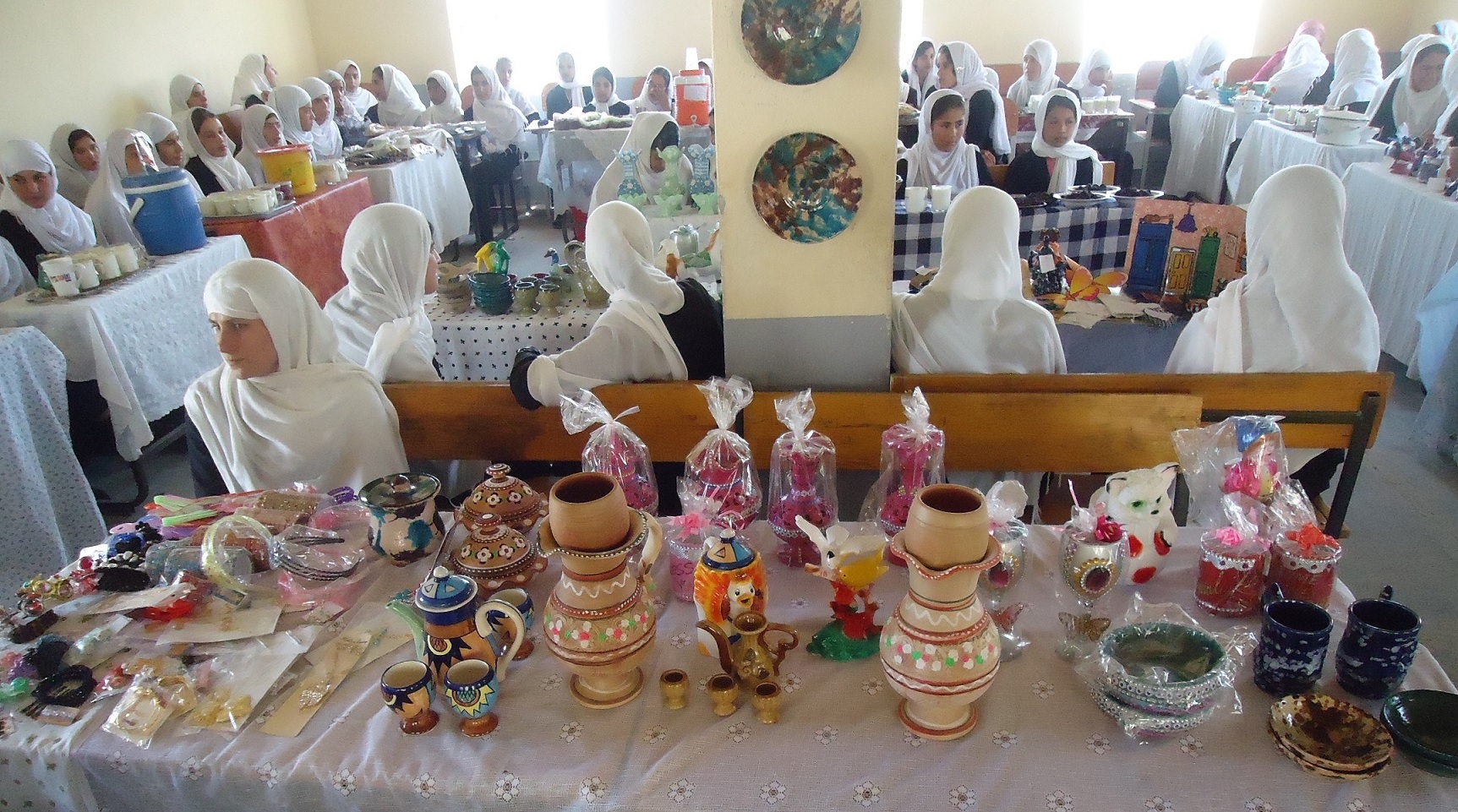 The Tashabos Educational Organization Exhibition - Copyright CIPE
A subject in school plants the seeds for youth empowerment

Over the last three years a new subject has been included in schools' curriculam. It teaches youths, in Grades 10 to 12 how to stand on their own feet and create a viable future for themselves. Through planting the seed of entrepreneurship, the Tashabos helps students discover their hidden talents so they can create their own business and develop professional skills.

"We want youth to feel empowered and self-sufficient, ready to build their future, and the future of their country. When they graduate, many set up small businesses, support their families and even create job opportunities for others," explains Fazel Rabi Haqbeen, head of the Afghan NGO the Tashabos Educational Organization (TEO).

With nearly 80% of the total population under 35 years, Afghanistan is one of the youngest countries in the world[1]. But the uncertain economic outlook particularly affects the youth, who face rampant unemployment and low wages. Establishing avenues for young people to develop skills and improve their livelihoods can equip them with a degree of control over their future.

Fatima Nasiry, 18 years old, is a student at Abul Qasim Ferdawsi Gilrs' High School. Encouraged by the Tashabos initiative, she started her own business from scratch, with only 20AFS.

"In Grade 10, we were told an inspiring story about a woman who had made a jacket for her husband and was asked by many of her acquaintances to produce more and sell them." Fatima relates. "So with my 20 Afs, I bought string and used old bangles to design a small hand purse. At school, all my classmates wanted to buy it. At first, I did not know how to price it, so I ventured 200 Afs and it sold."

Today, four other female students work with Fatima. They collect ketchup bottles and strings to create pencil holders, vases, pillows and beauty accessories. Yet, after graduation, they will not be able to work outside of their home or continue their education. Traditional pressures, such as marriage, make young women more likely to end their education, which in turn makes it difficult for them to find decent jobs. Therefore, Fatima bought them raw materials to continue crafting at home enabling them to earn some revenue out of it.





Stories from Afghanistan
ARTICLE
Innovation, Youth, Education, Girls
The Tashabos subject includes business development, management, marketing, personal economics, management, leadership and other related topics. The program currently is taught in four provinces (Kabul, Parwan, Nangarhar and Bamyan), has enrolled 34,000 students and hired 63 teachers. Every year, a national Business Plan competition is organized, where the top 10 students are given extra business courses to increase their capacity. The top three students also receive a prize and a small contribution to start their business. According to the NGO TEO, 773 business plans were created in 2015, and 966 in 2016.

"We are providing students with knowledge and a methodology to increase their management and leadership skills. We introduce them to entrepreneurship and also to small businesses and government agencies to broaden their perspectives." Haqbeen said.

The NGO also organizes regular exhibitions with authorities, civil society, donors and small business representatives to present students' initiatives and boost their confidence. For Fatima it is way to meet new customers that she would not otherwise be able to access otherwise.

"Tashabos has helped me shape my business. We create new designs from old things: Afghans like this because our products are original and inexpensive. Foreigners like the handicrafts and the concept. During an exhibition, I sell most of my product line in the first hours of the days! It is so encouraging!"

When asked where she sees herself in five years, Fatima answers, "I will have a bigger business, with five shops in busy areas. What matters the most when setting up one's own business is skills and determination. We, the youth, can do anything"
[1] 'National Risk and Vulnerability Assessment 2011-2012', Central Statistics Organization, 2014.