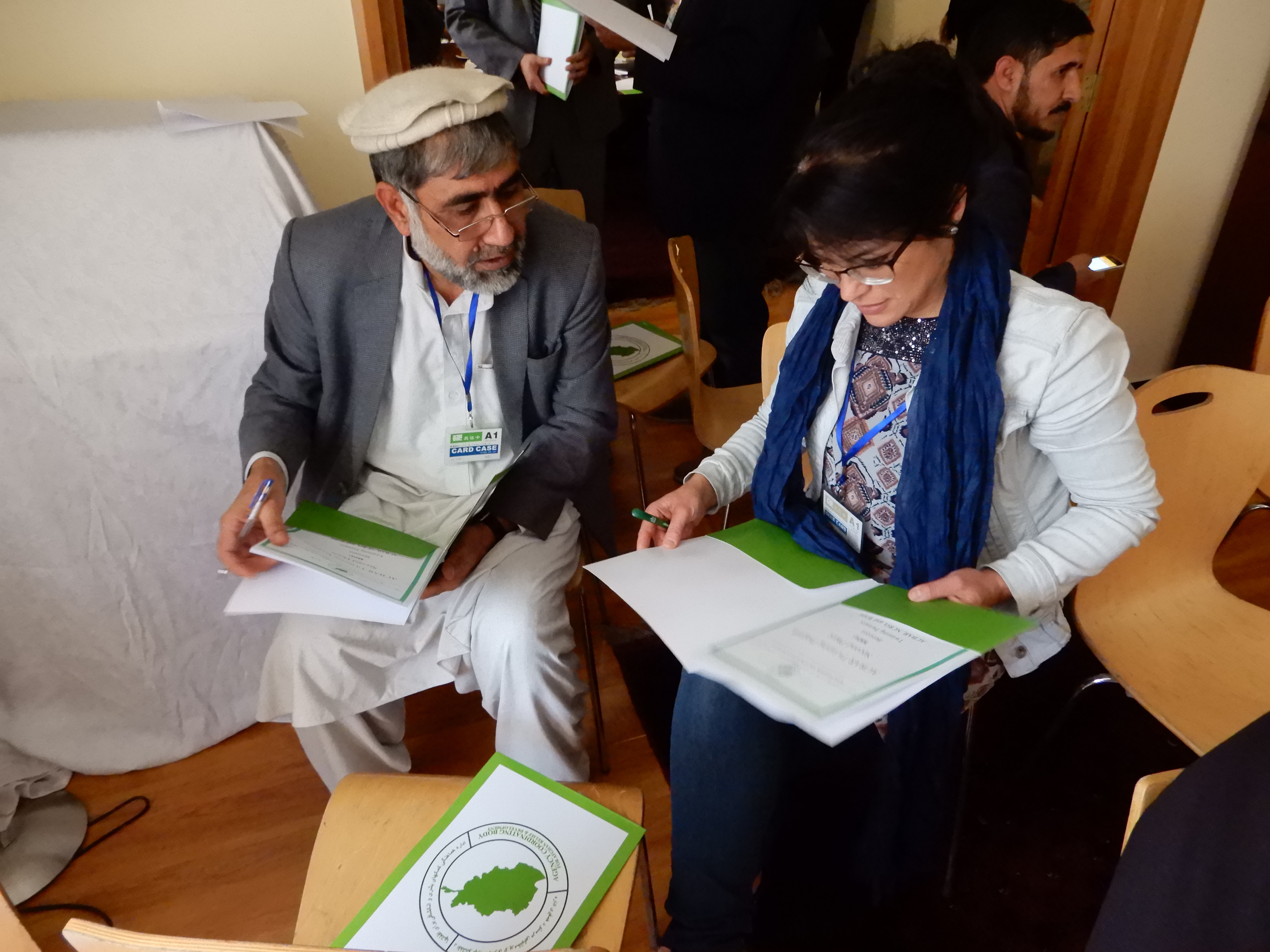 NCRO (National NGO) and WHH (International NGO) signing their Memorandum of Understanding for the second phase of the Twinning Program
In short
Increase NNGO participation in the humanitarian clusters

Build NNGO capacity to access the CHF and other humanitarian funds

Increase NNGO ability to conduct quality assessments

Give the entire humanitarian community more access to local knowledge

Ensure all organizations involved follow international humanitarian principles

March 2017 Statistics
NNGOs in Twinning Program: 22

INGOs in Twinning Program:10

NNGOs passed CHF due diligence: 9

NNGOs with CHF partner projects: 2

NNGOs with new projects 2016: 20

NNGOs mapped: More than 130

Twinning Trainings Conducted: 36 sessions

SWOT analysis conducted: 2015 – 23, 2016 -22



Mid Term Assessment of the Twinning Program
In the Mid Term Program Review it was reported that, 'UNOCHA has already been sharing the Twinning Program experience with other countries in which it operates, as the Twinning Program appears to be a systematic effort to achieve the global goal of UNOCHA for greater inclusion of national NGOs in the provision of humanitarian response. '
The Mid Term Assessment of the Twinning Program highlighted some very useful recommendations that will be incorporated into the program in order to make it stronger. Overall, the program has been very useful in helping members improve their organizations, policies and helping members collaborate with their INGO partners. As the program's original goal was to help NNGOs pass the CHF Due Diligence (DD) the consultant recommended the scope of the program needed to change in order to make it relevant for those NNGOs that have passed the DD. This involved re-designing the program MoUs between partners in the 2nd Phase of the Twinning Program to be more specific in duties and to have more individualized agreements.
Link to Assessment http://www.acbar.org/upload/1492345062614.pdf
The ACBAR Twinning Program
History of ACBAR Twinning Program
The ACBAR Twinning Program commenced in 2015 to address the lack of capacity of National NGO (NNGOs) providing humanitarian aid and lack of representation in the Common Humanitarian Fund (CHF). Amidst a multiplication of humanitarian crises worldwide, funds allocated to Afghanistan have decreased, while donors' aversion to risk and their demands for accountability are increasing. Consequently, humanitarian focused NNGOs are struggling to meet donor requirements for funding.

The Twinning Program aims to address this by pairing NNGOs with INGOs that provide mentoring and guidance to their Afghan counterpart on institutional management, humanitarian practices, and strategy.
ACBAR identified, through a comprehensive mapping of humanitarian NNGOs in Afghanistan, 23 humanitarian NNGOs who qualified for the program. We selected the NNGOs according to the below criteria:
Humanitarian expertise (Food Security/FSAC, Water & Sanitation/WASH, Health, Nutrition, Protection, Shelter)
Past experience in managing important funds
Recommendation from INGOs members of ACBAR
Recommendation from UN Clusters
We then paired all the NNGOs with an INGO depending on:
Common expertise
Common experience working together
Common location

Due to the rigorous nature of the CHF Due Diligence(DD) process and the funding requirements for Afghanistan Humanitarian Fund projects, the Twinning Program focuses on those NNGOs which have a history of implementing large scale humanitarian projects. By March 2017, nine Twinning Partner NNGOs passed CHF DD.

SWOT analyses were conducted for all NNGOs at the beginning of the program to identify gaps in capabilities and at the end of 2016 to determine the current status of the NNGOs. INGOs have been requested to provide their input for their partner NNGOs. Based on NNGO priorities identified in SWOT analyses, INGOs provide on the job mentoring, joint field visits, and technical advice. In turn, ACBAR regularly reviews policies and systems and provides trainings, which address needs identified in the SWOT analyses.

Throughout the first two years 36 training sessions were held on subjects including Sphere, disability awareness, financial management, anti-corruption, and gender mainstreaming. For the second year, the twinning program developed trainings that focus on comprehensive proposal writing, gender mainstreaming, and anti-corruption. Management training sessions were held for integrity in NGO management, financial management, and project cycle management.



Twinning Program 2nd Phase
For the Twinning Program 2nd Phase a new MOU with the responsibilities of each party, ACBAR, NNGO and INGO has been developed. In section 8 of each MOU any specific agreements between the INGO and NNGO are listed. On April 6, 2017 a 2nd Phase Twinning Program Inauguration was held at DFID with the Twinning Partners.

As the Twinning Program starts the second phase in April 2017, there are 21 NNGO and 10 INGO Twinning Partners.

Activities identified for the 2nd phase will focus on increasing NNGO's membership in the CHF, participation in the humanitarian clusters, ability to access future funding, ability to conduct quality assessments, and the sharing of knowledge between NNGOs and INGOs.
For more information about the Twinning Program email Programmanager@acbar.org