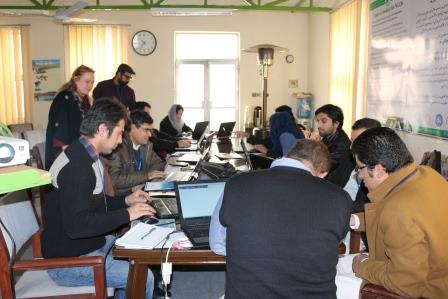 IMMAP Report Hub Training
Twinning Program 2 Statistics through March 2020
NNGOs in Twinning Program – 20
NNGOs graduated Twinning Program - 0
Advisors in Twinning Program – 13, INGOs -10 and NNGOs -3
NNGO applied to due diligence – 10
NNGOs passed AHF due diligence – 0
NNGOs waiting for capacity assessments - 0
NNGOs with capacity assessment – 0
SWOT Analysis conducted – 2019 - 20
NNGOs received AHF partner projects – 0
Twinning Trainings conducted – 8 1/2 days
Proposals awarded January – March 2020: 36 Proposals submitted and 8 projects were awarded. 4 Humanitarian, 3 Developments, 1 Humanitarian/Development. 1 Indirect Proposal of SWRO with NAC on Cooperation Agreement was awarded in Dec.2019
Twinning Program I Statistics Feb 15, 2015 to March 31, 2019 updated
25 NNGOs completed the program
21 NNGOs graduated from the program, 3 graduated after March 31
25 NNGOs applied for DD, 22 NNGOs passed UNOCHA Due Diligence before the end of program
21 NNGOs passed UNOCHA Capacity Assessment and are now included in the AHF Partner Base includes graduated partner
13 INGOs mentored NNGOs in the program
7 direct AHF projects received by NNGOs and 4 indirect AHF projects with INGOs as leads with an NNGO twinning partner, does not count additional AHF projects received by NNGO graduated in March 2017
34 partnerships were made from Oct. 1, 2017 - March 31, 2019, 20 Direct partnerships between INGO and NNGO partners, 14 Indirect partnerships between INGOs and other NNGOs in the program
More than 155 NNGOs were mapped
356 NNGO Policy Reviews by ACBAR, 350 NNGO Policy Reviews by INGO partners
2015 – 23, 2016 - 22, 2017 – 3, 2018 – 25 total of 73 SWOT analyses conducted
89 training days conducted from 2015 through March 31, 2019, plus 4 additional sessions of multiple days in various locations
Step by step to more localized aid
ACBAR contributed to this article which is about the Twinning Program.
http://www.acbar.org/upload/1524111148594.pdf
The ACBAR Twinning Program 2
History of ACBAR Twinning Program
The ACBAR Twinning Program commenced in 2015 to address the lack of capacity of National NGO (NNGOs) providing humanitarian aid and lack of representation in the Afghanistan Humanitarian Fund (AHF). Amidst a multiplication of humanitarian crises worldwide, funds allocated to Afghanistan have decreased, while donors' aversion to risk and their demands for accountability are increasing. Consequently, humanitarian focused NNGOs are struggling to meet donor requirements for funding. The Twinning Program aims to address this by pairing NNGOs with Advisors that provide mentoring and guidance to their Afghan counterpart on institutional management, humanitarian practices, and strategy. The Twinning Program I ended March 31, 2019.
The Twinning Program 2 started August 1, 2019 and is a 4 year and 8 month capacity building program funded by DFID with the aim of building the capacity of National NGOs (NNGOs) through training, mentoring and cooperative activities in partnership with ACBAR's International NGO (INGO) and National NGO (NNGO) members which have been accepted as Advisors to the program. ACBAR and the Advisors work to improve the NNGO's humanitarian capabilities through training, meetings, field visits, mentoring and cooperative activities.
The anticipated impact of the Twinning Program is that the capacity building of NNGOs contributes to system-wide gains in humanitarian delivery in Afghanistan through increased participation and improved capabilities of NNGOs to implement UNOCHA's Afghanistan Humanitarian Fund (AHF) programs, either individually or in partnership, with other NGOs that deliver essential aid and services. The #1 outcome of the program is to help the NNGOs to become part of the Afghanistan Humanitarian Fund partner base. The #2 outcome is to have successful funded humanitarian and development programs/projects through partnerships, in addition to AHF, for NNGOs approved as a result of the Twinning Program.
We paired all the 20 NNGOs with an Advisor depending on:
Common expertise
Common experience working together
Common location
TP2 has 13 Advisors, 10 INGOs and 3 NNGOs that are ACBAR members and part of the Afghanistan Humanitarian Fund (AHF) partner base. The Advisors have 1 or 2 NNGO partners that were selected through a rigorous selection process. Due to the rigorous nature of the AHF Due Diligence (DD) and Capacity Assessment (CA) process and the funding requirements for projects, the Twinning Program 2 focuses on those NNGOs which have a history of implementing humanitarian projects. Currently the 20 NNGOs in the program either have experience in humanitarian response already or are in the process of learning how to participate in the humanitarian system.
The Twinning Program 2 continues to assist NNGOs in Afghanistan build their capacity through different kinds of trainings and meetings which tend to have four key elements: improving performance and understanding of the partners staff, career development and sharing knowledge and experience to access the Afghanistan Humanitarian Fund (AHF) by completing Due Diligence (DD) and the Capacity Assessment (CA) in order to participate more fully in the humanitarian response. To achieve this ACBAR partnered NNGOs with Advisors that are ACBAR members, who will review policies and mentor NNGOs on topics from conducting quality assessments to best practices.
The NNGOs main offices are located in Balkh, Bamyan, Herat, Kabul, Kandahar and Nangarhar provinces and many have sub-offices across Afghanistan that are available to work provincially.
The UNOCHA Humanitarian Financing Unit (HFU) serves as an integral partner and acts in an advisory role in the Twinning Program due to their respective expertise which is invaluable and essential to the success of the Twinning Program.



Twinning Program 2
For the Twinning Program 2 MOUs with the responsibilities of each party, ACBAR, NNGO and Advisor have been developed. In section 8 of each MOU any specific agreements between the INGO and NNGO are listed. On November 13, 2019 a Twinning Program Inauguration was held at ACBAR with the Twinning Partners to sign the new MoUs.
Activities identified for the Twinning Program 2 continue to focus on increasing NNGO's membership in the AHF, participation in the humanitarian clusters, ability to access future funding, ability to conduct quality assessments, and the sharing of knowledge between NNGOs and INGOs.
In short
Increase NNGO participation in the humanitarian clusters
Build NNGO capacity to access the AHF and other humanitarian funds
Increase NNGO ability to conduct quality assessments
Give the entire humanitarian community more access to local knowledge
Ensure all organizations involved follow international humanitarian principles
The Twinning Program 2 is funded with UK Aid from the British people
For more information about the Twinning Program email Programmanager@acbar.org