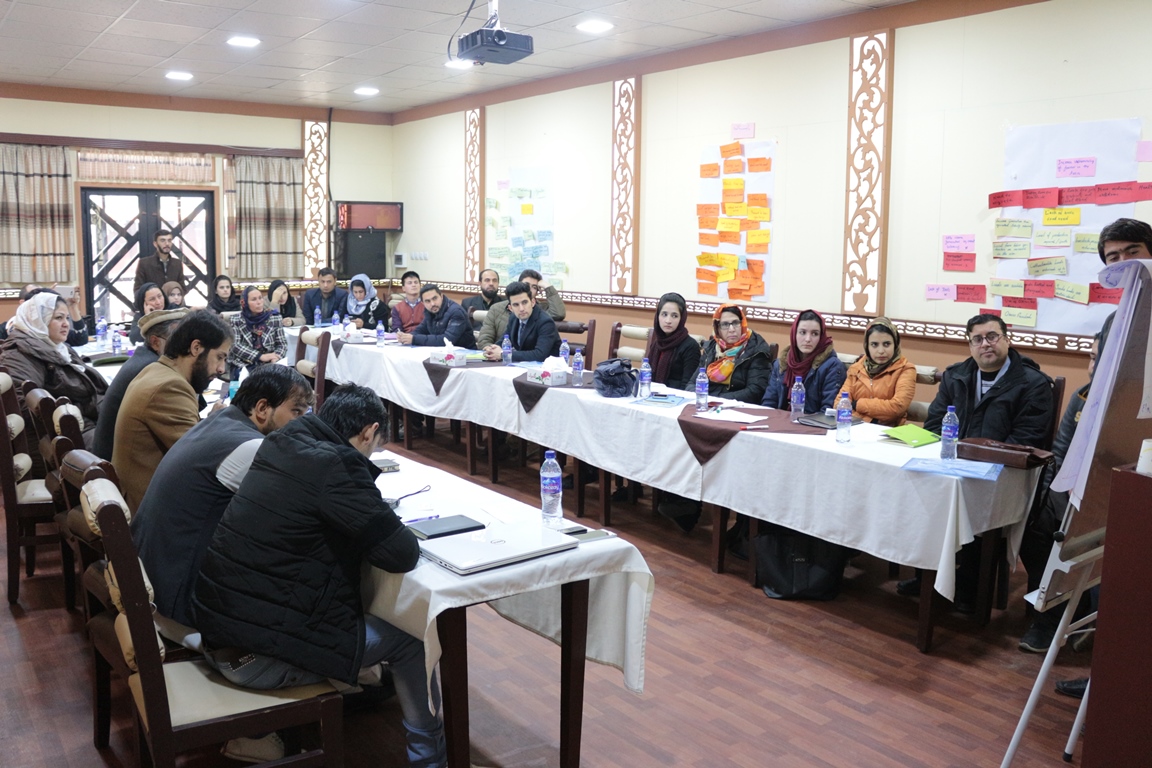 ACBAR Capacity Development Team
ACBAR has a Capacity Building Department which implements 3 capacity building projects in Kabul and in the provinces, funded by Japan Partners, UNEP and DFID.
The Afghan Civil Society Support Initiative (Funded by AAR ,JVC,and Peace Winds Japan)
The aim of the program is to strengthen the work of the civil society actors in order to expand services into provinces and districts through coordination, capacity building; learning and training, in order to enhance their ability to efficiently and effectively address basic needs and protect the rights of Afghans.

The trainings are conducted in Kabul as well as provinces selected on a needs assessment.
The training team consists of 3 trainers, M&E Manager, Training Manager Assistant, SFAN Project M&E officer and is managed by the Capacity Development Manager.
ACBAR Capacity Development Updates
ANNOUNCEMENT
ACBAR expands trainings in Afghanistan to NGOs
Capacity Development Achievements in 2017
ACBAR is pleased to release its achievements regarding trainings conducted in different provinces of Afghanistan with funding support of Japan and UNEP.
Afghan Civil Society Support Initiatives (ACSSI) Project:
Project Design –Building an intervention logic training
19 trainings on Project Design conducted in 19 provinces of Afghanistan for 486 (348 Male, 138 Female, 458 NGOs' staff & 28 government line departments) employees.
486 of participants from NGOs/CSOs and government line departments enhanced their capacity on proposal writing through ACBAR trainings in 19 provinces of Afghanistan.
In addition to trainings, the Capacity Development carried out training evaluations with 180 (130 Male, 50 Female) training participants in 11 provinces in order to assess the outcome and impact of the trainings. The feedbacks from evaluations are used to improve and adapt the training activities and methodologies.
Feedback from our Participant
"Thank you for conducting a great workshop in Kapisa province. I have obtained many workshops on proposal writings in abroad before, but this training really had an influence on my career and inspired me to write a good proposal. All the contents, supplements, group works were valuable and effective and helped us to learn more about the most critical aspects of the proposal. The trainings were delivered very well by the trainers."(Mohammad Aziz Asefi, Care Int., Provincial Manager of Kapisa and Parwan)
United Nations Environment Program (UNEP):
Introduction to Climate Change ( from Science to Action in Afghanistan) training
5 trainings conducted on Introduction to Climate Change (From Science to Action in Afghanistan) in 5 provinces of Afghanistan for 152 (97 Male, 55 Female, 133 NGOs staff & 19 governmental line departments) employees of 141 NGOs/CSOs and 11 governmental line departments.
The objective of the training was to support Afghan NGOs/CSOs at national and provincial levels, to better understand, Climate Change from science to action to consider it in their interventions, and to contribute in building adaptation and mitigation capacity in country.
Feedback from our Participant
"The training was new and learned many concepts I didn't know before. All the training contents were explained clearly through presentations and group works and discussions and helped us to enhance our knowledge and information regarding climate change. Overall the training was very informative and effective and aware us how the climate change effects on different sectors and funding opportunities and availability of technologies in order to adapt and mitigate from impacts of climate change." (Ajab khan Omerkhail Provincial Coordinator, MADERA- Nangarhar province)