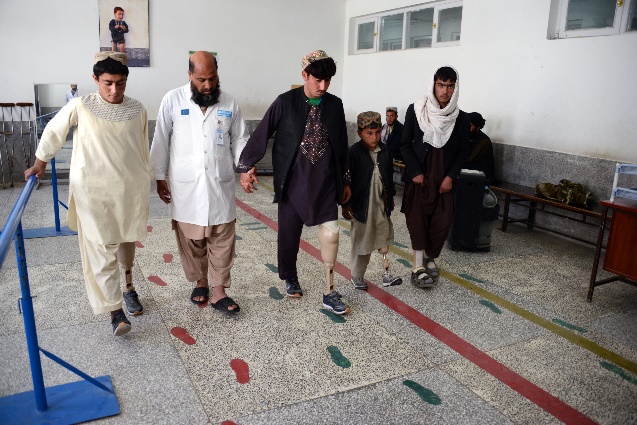 Leave no one behind
International Day of Persons with Disabilities
Nadia is 9 years old and lives with her family in Nad Ali district of Helmand province. Until 2011 she lived like any small girl, helping her family members in household activities and playing outside together with other children. But in 2011 an airstrike hit her village. The airstrike injured her mother and grandmother and took the life of her grandfather who was supporting the family financially as head of household. They were taken to Shorab Military hospital by the Afghan National Army; later on they were referred to another military hospital located inside Kandahar airport, where Nadia's leg was amputated.
When she lost her right leg, Nadia's life changed completely. She could not move inside or outside the house without help from others. She couldn't play, couldn't help with the household chores and felt very sad. Nadia had to be helped by family members to wash, go to the toilet and dress. Her family was worried about her condition and who would look after her in the future.
Sometime later Nadia visited Handicap International's Physical Rehabilitation Center (PRC) in Kandahar and received physiotherapy treatments and a new leg (prosthesis). The services at PRC services have changed Nadia's life. The new prosthesis means she can walk on her own again and do many activities without facing any problems. Nadia has once again started playing with children outside the house and her family is no longer worried about her. The rehabilitation services Nadia has received, allows her to be an active part of her family and to help in household activities.
There are many other People with Disabilities like Nadia in Afghanistan. People with Disabilities face many barriers in their bid for self-determination and agency. Disability is often surrounded with mystery and taboos, which may sometimes result from religious and cultural beliefs, leading to negative attitudes and practices, contributing to further exclusion, marginalization and discrimination. In some societies including in Afghanistan, being a woman with disability means double discrimination, first for being a woman and secondly on account of being disabled. A significant number of people with disabilities live in Afghanistan. According to the National Disability Survey of 2005, 10.8% of the population was considered severely disabled in at least one function.
The theme for this year's International Day for Persons with Disabilities is "Empowering persons with disabilities and ensuring inclusiveness and equality". This theme is in line with key notions and the spirit of the Sustainable Development Goals (SDGs), built around the commitment to "leave no one behind", and the guiding principles of the UN Convention on the Rights of Persons with Disabilities (UNCRPD). It reminds the world of the need to make conscious and active efforts to ensure those who are risk of being left behind are included from the beginning.
The Convention is a comprehensive framework addressing the needs and rights of people with disabilities. The Convention aims to "promote, protect and ensure the full and equal enjoyment of all human rights and fundamental freedoms by all persons with disabilities, and to promote respect for their inherent dignity." Afghanistan ratified the CRPD and the optional protocol in 2012.
Empowerment in it basic terms means that people have a say, that they are listened to and can take control to exercise self-determination and enjoy their rights and responsibilities on an equal basis with others. Many people with disabilities face disempowerment within their families and communities. For this reason, there is a need to work with families and communities everywhere to ensure that people with disabilities become their own agents of change. When people are empowered this contributes to greater equality of opportunity in society. In practical terms, whether within government, the private corporate sector or humanitarian and development work, it means having an open mind and being curious about what steps (small or large) can be made to promote change. The ultimate goal is to promote the inherent dignity of people with disabilities. Only then can we make steps visible steps towards a more inclusive and equal society.
Handicap International believes that "twin track" approach to disability is important. At the individual level, actions should be undertaken to support and empower people with disabilities. On a broader society level, influencing the environment (actors, policies and strategies) is necessary to take into account the needs of people with disabilities.
We should all work towards full implementation of the Convention on the Rights of People with Disabilities in Afghanistan!