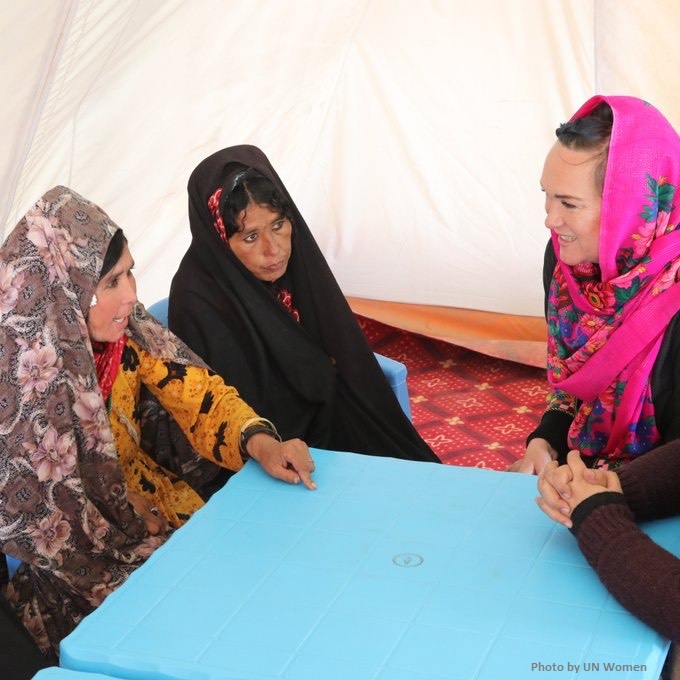 There is nothing quite as powerful as walking into an improvised shelter. Built by hand, using whatever could be found, far from everything remotely known as 'home', far from your people, your land, your family and your history. Shelters like these are home to some four million internally displaced Afghans who had no other choice but to flee from their real homes.
No matter where in the world you are born, your life will be harder if you are born a girl. You will have fewer rights, you will earn less money. If it happens that you are born in a country affected by conflict, your chances of being killed because of conflict are higher just because you are born female.
Women's full participation is a critical component of effective and life-saving humanitarian action. However, humanitarian responses often miss opportunities to leverage women's role as decision-makers, first responders and economic actors – and rather include women and girls purely as 'vulnerable groups'. Women and men are differentially impacted and often highlight different concerns and bring different perspectives, experiences and solutions to issues. As such, women must be consulted directly and not through men who often speak on women's behalf. It is critical that women and girls are fully engaged in the design, implementation and monitoring of humanitarian responses.
This past week I've talked to more than 200 women across Afghanistan. What they want is what we all want: economic justice and rights; bodily autonomy; freedom of expression, inclusive public spaces; to access technology for gender equality; feminist leadership; and for their voice and views to be heard, and to count. To wear what they want. To be educated. To control their bodies and their lives. Afghan women want to be safe: free from violence, oppression, persecution and fear. Afghan women want to be the central agent of their lives and their futures. They want to thrive, to be self-reliant and to build a life for themselves and for their families. These needs, rights and aspirations do not stop in a crisis. Women must be consulted, their opinions must be considered, their perspectives must be included in every step of the way from humanitarian actions to development.
Women's rights and gender equality are taking centre stage in 2020. The unprecedented energy around gender equality makes this a moment when extraordinary progress is possible. And in Afghanistan, we MUST convert this energy into action. What I do know is that our drive to end human suffering is the reason we, the United Nations, exist, and it's the reason I go to work each day with the resolve to find a way that women would have equality, for the benefit, and the peace and prosperity of Afghanistan.
Today, on International Women's Day 8 March 2020, and every day!
Aleta Miller - UN Women Representative in Afghanistan