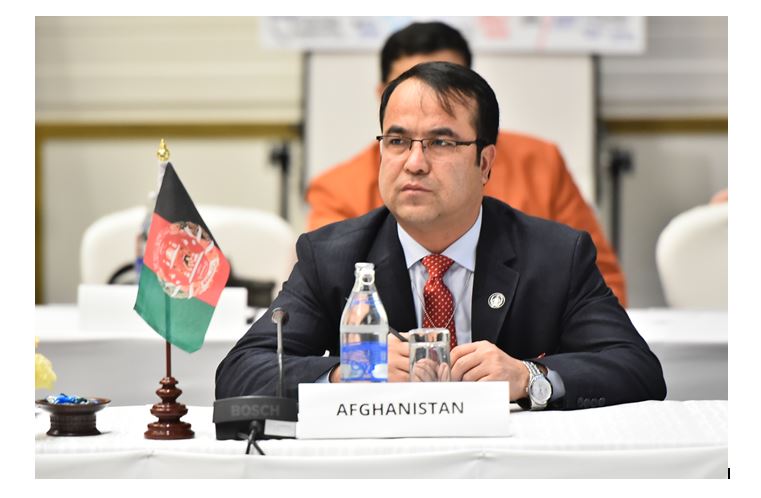 Speech of Mr. Mohammad Qaseem Haidari, Deputy Minister, Policy and Coordination, State Ministry of Disaster Management and Humanitarian affairs in 15th Regional Consultative Committee on Disaster management on a holistic approach to addressing overlaps between Disaster and Conflict Risk- Experience from Afghanistan

Distinguished guests, ladies and gentlemen,
It is my pleasure to be here today and I am thankful to ADPC for organizing this RCC event around most pressing issues, challenges and solutions in terms of building resilience and strengthening the coping capacities of communities at risk due to different phenomena.
I will like to give some insight about the condition of Afghanistan in terms of conflicts and disasters. Afghanistan is now the scene of the deadliest conflict on Earth. Fighting continues to expose civilians, particularly women and children, to deadly risk, promoting mass displacement and affecting the country's unstable economy.
Years of shocks have left an acutely vulnerable population with few economic resources, and eroded capacity to cope with unfolding crisis with little hope of recovery, if trends continue in the same way.
The UN Humanitarian Needs Overview 2020 projects a worse situation in coming year, 9.4 million population require humanitarian and protection support in a country of 37.5 million. Also 17 million people are living in 106 highest conflict districts out of a total of 369 districts.
The humanitarian consequences of the crisis now affect every aspect of life in all corners of the country. People's survival and well-being is threatened by ongoing conflict, inflicting high levels of civilian casualties and life-altering traumatic injuries. Poverty is climbing, and indebtedness remains high, especially among internally displaced people (IDPs). Over 80 per cent of people are living on less than the internationally applied poverty line (US$1.90 per day) to meet their needs, undermining the dignity of their living conditions and reducing the community's resilience to shock.
Conflict remains the main driver of displacement; however natural hazards, both sudden and slow onset also contribute to, and trigger, population moments and humanitarian needs in affected locations. Afghanistan is highly prone to the natural disasters, whose frequency and intensity are increased over the period because of climate change other geological and hydro-meteorological phenomenon. Drought was a major driver of humanitarian needs in 2018 and early 2019.

A recent food security assessment has confirmed that hunger and malnutrition remain very high. Many rural parts of country are still struggling to recover, particularly in terms of agriculture and livestock. Heavy rainfall caused unseasonal flooding in various location of country in 2019 and affecting almost 280,000 population. The country remains highly prone to earthquake, avalanches and landslides. In 2020, it is anticipated that 200,000 people will need humanitarian assistance due to sudden-onset disasters, including avalanches, landslides and flash floods. Average rainfall patterns are predicted for 2020.
It is apparent that humanitarian needs are increasing year by year in the country and communities are either displaced or remained at the same location with poor and reduced coping capacities. Development processes are also mostly aid driven in the country and not able to provide immediate basic services for the communities to build their coping capacities.
The Afghanistan scenario looks like a scenario of humanitarian needs only and no space for resilience building and strengthening the coping capacity of the affected people. It is important to support communities with humanitarian needs to reduce the mortality, human sufferings and protection of human rights of the individuals, but it is also important to reduce humanitarian needs with parallel actions from development or integrating the components of early recovery, resilience building and increasing the coping capacities under the humanitarian Response Planning Process.
Despite prolonged conflict, continued disasters and increased needs of humanitarian support, the Government of Afghanistan is not leaving any stone unturned to build the resilience of the communities with its limited resources and capacities. Frameworks like HFA and SFDRR have created an institutional base to start the process and dialogue on community resilience building. The Government is very much keen to reduce the humanitarian needs and increase the resilience of the communities. It is creating the good institutional base from national to province level for understanding the disaster risks of communities; a number of policy and institutional frameworks have been created to adopt the mechanism of risk reductions. The Government of Afghanistan launched the Afghanistan Strategy for Disaster Risk Reduction on 24th of December 2018 and this is under process of implementation with development of an action plan. A number of activities under the strategy are related to the core requirements for resilience building in the country: to develop a disaster damage loss data base to analyze development losses against development gains; to prepare a number of sectoral guidelines to integrate the risk reduction components in the current development planning framework and to advocate with key donors in the country to integrate the components of resilience building in their humanitarian and development framework.
A number of encouraging results can be seen in the coming few months. DIFD has funded around 24.5 million pounds for early recovery and resilience building to IDPs, Returnees and Host communities in a 4 year project. The UN Humanitarian Country Team has brought a new definition of humanitarian activities, which include the words resilience building and strengthening coping capacities of affected communities. It will be a good enabling environment for integrated resource mobilization for resilience building under the Humanitarian Response Plan Cycle. World Bank has done a number of risk assessments in the country to develop a comprehensive risk profile for promoting the risk informed development but still it needs to be advocated with development entities. World Bank with support of ADPC and AKAH are doing the Institutional Assessment of Disaster Risk Management system in Afghanistan. It will be one of the good advocacy tools for completing those institutional gaps and work towards strengthening the institutional mechanism for Disaster Risk Management and Resilience building.
The Afghanistan National Disaster Management Authority (ANDMA)/State Ministry for Disaster Management and Humanitarian Affairs (SDMD) is moving very strategically with number of updated plans, policies and guideline to create the enabling environment to promote the agenda of reliance building under the development and humanitarian pillar in Afghanistan, and I want to thanks from all our stakeholders - UN agencies, INGOs, NGOs and Government entities for all their support.
I am requesting from this RCC platform to all member countries and to the ADPC to help Afghanistan with more technical and financial support so that our conflict prone country could also achieve the best resilience building agenda to reduce to the humanitarian needs in the country and support the Sustainable Development Goals (SDGs) in the country. I wish all RCC members good luck and results in their work for people that are suffering from different kind of disasters and conflict in the region. Click here for the Bangkok Statement
Thank you.