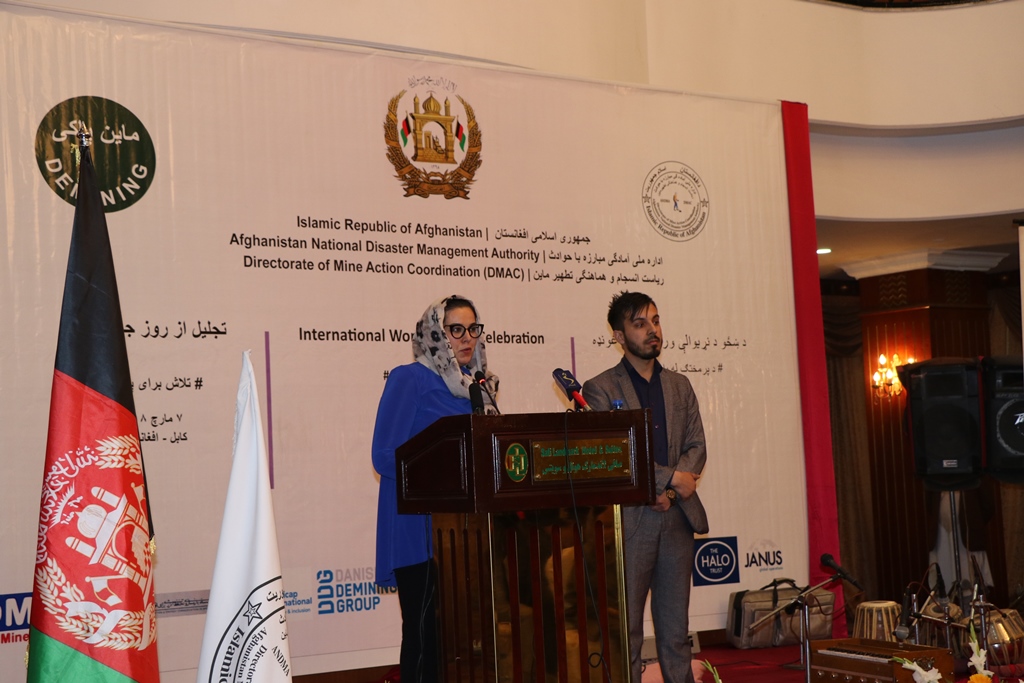 "Women in Mine Action"; speech on International Women's Day

Published Date: 12:22 PM 08-03-2018 Updated Date: 08:30 AM 11-03-2018
In Humanitarian Mine Action, we recognize and remind our teams, our partners and foremost ourselves, that women, men, boys and girls have different responsibilities and roles to play. They have different concerns and needs that must be considered when we plan, implement and evaluate our programs.  Without engaging women in all elements of our activities, our programs will never be successful. If women do not receive proper Risk Education, even when they do not engage in extensive travel or movement out of their homes which would traditionally put them at high risk, they won't be able to educate their own children, or be alerted when their children and family members engage in risky behavior. When our teams do not make real efforts to reach out for women, they will not know about possible hazards that those women have come across through their children or during their work in the fields and livelihoods activities. When we do not engage women to express their needs and concerns, we are not likely to succeed in providing safe lands that serve everyone's purpose within the community.
Whereas women rightly bear tremendous burdens as victims of explosive hazards or victims of their implications in their families, many women are also in driver's seat of Humanitarian Mine Action programs, and active agents of change for building peace. Leading mine action programs' implementation and planning, putting on their gears to clear lands, and remove and destroy landmines and explosive weapons. Women and women's organisations have played vital roles in advocacy for the main legal framework instruments that govern our work today, such as the Antipersonnel Mine Ban Treaty and the international Campaign to Ban Landmines (ICBL).
We may have not seen this widely in Afghanistan, but we have learned from many programs around the world, the women who are involved in mine action activities including demining, have actually gained the respect within their communities and families, and contributed immensely to making their communities safer. This includes women deminers in countries like Lebanon and Jordan, who also came from Muslim and conservative communities and who have left a great impact and were embraced as role models in their countries.  All female demining teams have been established in South Sudan, and in Cambodia and have released safe lands with great productivity, and with the highest compliance to the safety and quality standards. In Bosnia, Yemen and Lebanon female survey teams have successfully lead data collection and survey in many communities, which has subsequently improved the prioritization of mine action programs in those countries.
These are only examples. Myself, as an woman leading one of the biggest and oldest mine action programs in Afghanistan, I take pride in contributing  to the much bigger efforts you all undertake to save lives and pave the road for the construction and recovery of many local communities in Afghanistan. I share the gratitude to all my respectable colleagues and managers and the Danish Demining Group who supported me in expanding my technical knowledge and gaining my Explosive Ordnance Disposal (EOD) qualifications, but likewise, they also valued and respected the support, the guidance and the value I added to them. As such, our organization and our programs grew steadily with the full utilization of the potential of all our team members.
This is the recipe for success for mine action organisations, and its prescription is to value the commitment, potential and skills of all their workforce members; women and men alike, while acknowledging the different needs, concerns and priorities of all impacted groups within their areas of work being it women, men, girls and boys. With this inclusive commitment, we are most likely to succeed, at a much faster rate to make Afghanistan - and many other parts of the world - safer and clear of landmines and explosives hazards.
I would like to thank all our deminers, their families and all the organisations that have exerted inspirational commitment to the goals of making Afghanistan free of landmines and reducing human suffering. Your efforts shall not be forgotten; rather they shall shape a better and prosperous future.
Thank you,
Radwa Rabie
Head of Program (Danish Demining Group – DDG)
7 March 2018