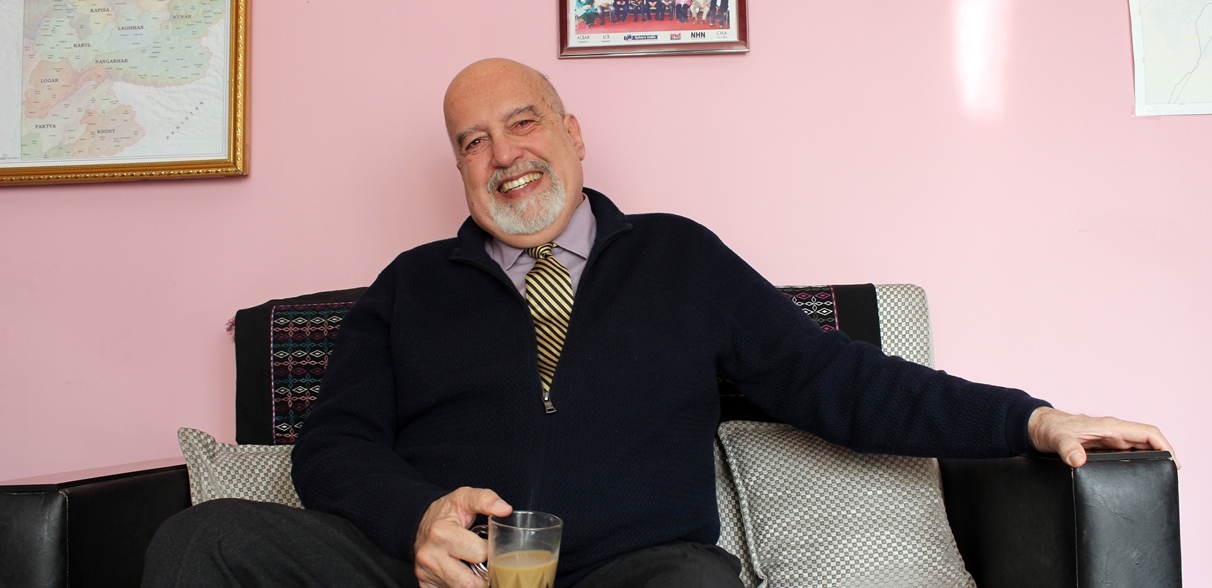 "A Good Opportunity to Be Part of History" Interview with Sultan Aziz, Chairman of ACBAR 1989-1991

Published Date: 09:04 AM 12-04-2018 Updated Date: 10:11 AM 12-04-2018
It was an interesting time, because there were a lot of developmental challenges and ACBAR was increasingly seen as an institution to which people turned for information. At that time ACBAR had to respond to increasing demands from communities and of course ACBAR did not have the required resources, so ACBAR became by default a clearing house to refer people to the right resources and provide information. For example, if somebody came with particular medical issue, ACBAR was not in a position to do anything, so we would say why you don't go to talk with the Red Cross or others operating in Peshawar. So we became the clearing house and the first stop if you needed information. Most of the secretariat members were Afghans and on the Steering Committee we were both Afghans and internationals.
I think ACBAR provided many useful services and at the same time ACBAR developed capacities that did not exist. We had NGOs coming and looking for funding but they had no experience implementing projects. I remember spending days teaching people how to write projects documents and how to do the monitoring and evaluation that was required, because ultimately the donors would expect reports. ACBAR also provided courses on basic accounting, bookkeeping and English for NGO members.   
Every Monday I used to attend at ACBAR meetings and I used to drive down from Islamabad to Peshawar and back and during the rest of the time the operational work was done by the Director. I was not involved with the operational work, I chaired the SC meetings where we helped with fund raising for ACBAR and looked to continue or discontinue some programs or increasing programs and policy orientation.  We also promoted the work of NGO members - I went to Canada, USA, Denmark, UK, Germany, Switzerland and other countries to explain the situation in Afghanistan.
When ACBAR was created with support of Donors and UN – the Pakistan government was not in a position to close it but they were not particularly welcoming. Later on ACBAR was supporting NGOs to work for the refugees and partner with UNHCR. Afghan NGOs were trained through ACBAR support and the Pakistanis realized that this helped the management of the refugee camps. The introduction of Afghan NGOs into the process helped to stabilize and build relations between refugees and government of Pakistan.
Today I can see that ACBAR has become an advocacy platform on behalf of civil society organizations. ACBAR has credibility with international donors and Embassies. If there are issues with the Government, you will go directly to the international community and say you need to look at this, so when there is a JCMB meeting or other related donor meetings in Kabul as part of Tokyo or London processes, ACBAR is invited. I think that is a great development. ACBAR has managed to evolve and change focus from exclusively dealing with NGOs to more formal work in policy and development issues.
I think that advocacy work is the most important responsibility of ACBAR and providing protection to NGOs and CSOs in an indirect way. It is not always a given that Government accepts criticism and when Government doesn't like criticism, this can create a lot of problems. ACBAR can do a lot in this area to become a voice for protecting CSO and NGOs.
The future of Afghanistan depends on a number of things. One of the issues in Afghanistan is the absence of justice; "justice delayed is justice denied". We need justice and peace in this country but the first requirement is justice. When I worked as a senior advisor for Mr. Ladkhar Brahimi (UN Special Representative for Afghanistan 97-99) his argument was that he said you cannot have peace and justice at the same time. For a Muslim country and for Afghans in particular, our cultural tradition demands to pay equal attention to both justice and peace.
Today I see NGOs as being an important element of civil society and in helping people to raise their voices. ACBAR can be a very important catalyst to encourage these voices. At the moment there is a lot of talk about justice but implementation of justice across the country is hampered by inadequate capacity and chronic corruption in the justice sector.
The role of NGOs has changed - efforts spent in creating capacity, has to be sustainable and relevant. Afghans are committed to change, as witnessed by the changes that have already taken place in the country. One hopes that change so far in the country is irreversible and the contribution of NGOs and CSOs is key to that process.
Sultan Aziz, born in Czech Republic, worked for Save the Children (4 years), the UN (20 years) and most recently as Advisor to the Minster of Agriculture (3 years). He is currently working as a consultant on a range of development issues in Afghanistan.