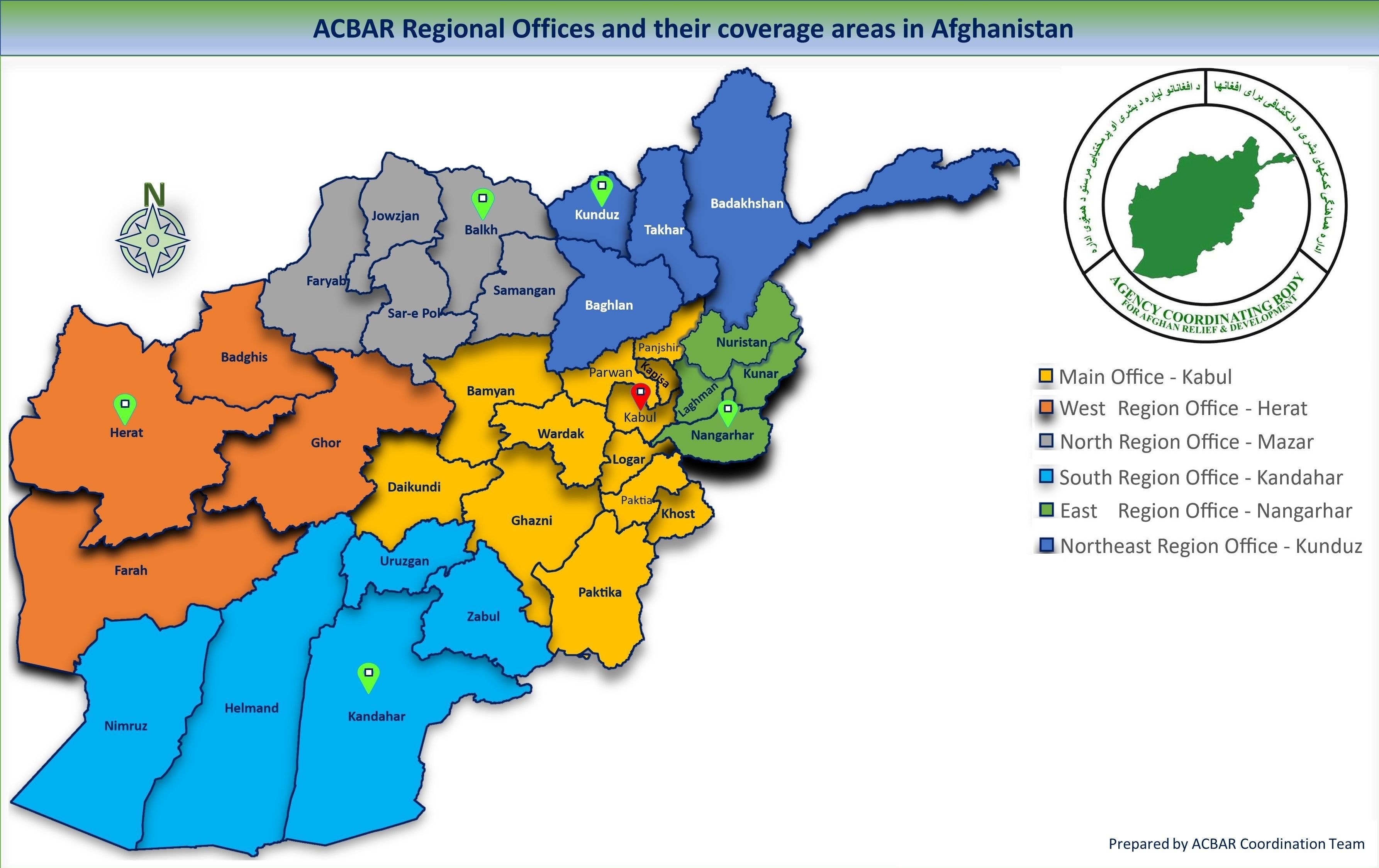 Regional Offices
Last Update: 2023-04-17 09:22:00
ACBAR's Regional Offices
Jalalabad , Mazar Sharif, Kunduz, Herat and Kandahar
 
Jalalabad
ACBAR Eastern Regional office is located in Jalalabad and covers four provinces, namely, Nangarhar, Kunar, Laghman and Nuristan. currently in the Eastern Region, ACBAR has 47 members consisting of 26 International and 21 National NGOs. According to ACBAR policy, ACBAR-ER Office is committed to provide national and sub-national support to its members through coordination, information sharing, advocacy and communication with all stakeholders, in addition to capacity development for accomplishing humanitarian and development goals.
ACBAR-ER office has maintained close coordination and relationship with all its members, humanitarian colleagues and relevant government authorities. In the reporting period, member concerns were raised at relevant forums named as below:
ACBAR – NCMs
ACBAR Advisory board meetings
HAGs
AWG, AAP-WG meetings
Provincial Development Committee (PDC)
Provincial DM Committee (PDMC)
Directorate of Economy (DoEC) meetings 
Government Line Departments meetings
Regional Humanitarian Team (RHT)
OCHA – OCT meetings
UN Clusters/Sub-Clusters meetings
INSO Security Round Tables
TWG Meetings
ACBAR-ER office conducts NGO Coordination and Advisory board meetings regularly on monthly basis to discuss member updates, challenges, suggestions and recommendations. In order to further strengthen coordination between ACBAR and its members, ACBAR-ER office regularly conducts courtesy visits to its members. For the year 2023, ACBAR-ER Advisory Board members are: WADAN, YVO, IRW and IMC.
Mazar Sharif
The north regional office of the Agency Coordinating Body for Afghan Relief and Development (ACBAR) is situated in Mazar e Sharif and covers a total of five provinces, namely Balkh, Samangan, Jawzjan, Sar e pul, and Faryab. The organization has an active membership of 50, including 27 international and 23 national non-governmental organizations (NGOs) operating in the northern region. ACBAR is dedicated to providing subnational and national assistance to its members through coordination and information sharing, advocacy for an enabling environment, and capacity building, in collaboration with all relevant stakeholders.
The ACBAR North team has established a strong working relationship with a wide range of stakeholders, including its members, non-members, civil society organizations, government sectors, and UN agencies. During the reporting period, the organization held meetings with various government bodies and other stakeholders, including Provincial Development Committee meetings (PDCs), Directorate of Economy NGOs meetings (DoECs), Governmental Sectorial Meetings (SWGs), the Operations Coordination Team (OCT), the Regional Humanitarian Team (RHT), and Clusters, to address the concerns and issues of its members.
In 2023, the Advisory Board members for the ACBAR North Office include SCA, IMC, RRAA, and HIHAO. Regular NGOs Coordination and Advisory Board Meetings of ACBAR members are held on a monthly basis in Balkh province, while the NGOs coordination meetings for other covered provinces are held every three months. The ACBAR North Office offers services and support to both its members and non-members in the northern region and is committed to hosting non-members who express interest in their services.
Kunduz
ACBAR Kunduz Regional office was established in March 2016 and covers Kunduz, Takhar, Baghlan and Badakhshan provinces. ACBAR currently has 33 active members in Kunduz, 17 members in Takahr province, 14 members in Baghlan province and 17 members in Badakhshan province, including National and International NGOs.
This office supports its members through monthly coordination meetings, information and knowledge sharing, provision of advocacy support and capacity building programs. Through its services, ACBAR regional office in Kunduz facilitates an enabling environment for its member NGOs across the region in order to deliver more effective humanitarian services and development projects for vulnerable communities.
ACBAR NGOs coordination meetings and Advisory Board meetings conducts regularly each month and participates in meetings with the Provincial District Council (PDC) and provincial departments of line ministries across all sectors as required.
ACBAR also regularly participates in UN-OCHA Humanitarian Regional Team (HRT) meetings, INSO Security Roundtables as well as meetings with NGOs and CSOs by invitation.
The Regional Office in Kunduz is actively supporting advocacy efforts of all its members and ACBAR has an active Advisory Board which fully supports the regional office in terms of consultation, advocacy, reinforcement and consolidation of the coordination mechanism in all aspects. The Board Members for the year 2023 are SCA (Chair), ACTED, OHW and ASIO. 
Kunduz regional office team maintained good work relationship with all stakeholders, such as, ACBAR members, government sectors, and the UN agencies. In the reporting period, members' concerns and issues were highlighted through meetings with the government bodies and other stakeholders as follows:
Provincial Development Committee (PDC)
Provincial DM Committee (PDMC)
DoEC 's Non-Government Organization
Directorate of Economy (DoEC)
Government Line Departments/sectorial meetings
Humanitarian Regional Team (HRT)
UN-OCHA OCT
UN-ICCG meetings
UN Humanitarian Country Team (HCT)
UN Cluster/Sub-Cluster
INSO Security Round Tables
Humanitarian Access Group (HAG)
Advocacy Working Group (AWG)
Other UN Agencies meeting

Herat
Herat Regional Office covers four western provinces of Badghis, Ghor, Farah and Herat. It has 60 active members consisting of 24 international and 36 national NGOs. Member and non-member NGOs receive trainings under ACBAR's capacity building program. Regional Office Advisory Board in Herat comprises of four members for 2023, which include Care International, WASSA, Hand in Hand and AHDAA. Regional Manager of Care International in Herat is the Chairperson of Advisory Board.
ACBAR NGOs' Coordination and Advisory Board Meetings are held regularly on monthly basis in person in Herat, but for the three other provinces ACBAR NGOs' Coordination meetings are held online every month. All members who have sub -offices in Ghor, Badghis, Farah or Herat provinces participate in the meetings where ACBAR addresses their problems and advocate on relevant forums. Herat office regularly participates in PDC, MoED and all other government sectorial departments' meetings, in addition to UN-OCHA OCT meetings, INSO Security Round Table, NGOs invitations, and others.
With key focus on information sharing and advocacy, Herat Regional office highlights its members concerns and issues with relevant stakeholders at regional level.
Kandahar
ACBAR Kandahar regional office has been covering five provinces as Kandahar, Helmand, Nimroz, Uruzgan and Zabul in the southern region of Afghanistan. Kandahar regional office is providing effective platforms for 65 member NGOs containing 35 International NGOs and 30 National NGOs. ACBAR continues to provide sub-national support to its members through coordination, information dissemination, advocacy & communication with stakeholders and capacity development for accomplishing effective humanitarian and development goals.
Advisory Board Members for 2023 have been elected by the majority votes of all members from HRDA, DACAAR, INTERSOS and DRC. The role of regional AB is to plan and coordinate activities at the regional or provincial levels. ACBAR regional team have been preforming activities such as conducting monthly NGOs Coordination Meetings (NCM), Advisory Board Meetings (ABM), visiting members' provincial/regional offices and provincial advocacy meetings with local government sectorial departments. Besides, ACBAR is attending PDC meetings & sub-sectorial meetings other relevant coordination meetings (WASH, FSAC, Nutrition, Health, SRPC, ESNFI, CPAoR, OCT, ICCG and RHT) to strengthen cluster approach for solving issues and challenges.. The team is also participating in HRT and regional sub-cluster meetings. ACBAR representation stands for addressing members' challenges totally to enhance the scope and impact of its work among all member NGOs, UN agencies, CSOs and with provincial authorities in the south.
ACBAR forms its members' sound relations with Provincial Governors, Deputy PGs, PGO directors, line depts. directors in all five provinces in the south and represent member NGOs on issues faced/raised between NGOs and IEA local authorities. ACBAR also provides support to NNGOs in terms of NGO capacity building for example standardizing NNGOs with Twinning Program.
.